How to use Use Moving Averages In A Trading Strategy
Moving averages work better when there is sufficient price momentum to ignite a solid uptrend. Here I will show you one of the best moving average trading strategies that you can create with Coinrule.
Let's have a look at the current market conditions. This is the macro picture on Bitcoin's price. We had a steady uptrend since the lows in the mid-March. Since then, the price kept going up, and finally, we broke a very crucial level, finding resistance around $7,700.
The moving average (200) provided very nice support since the beginning of April, and this is an encouraging sign. Also, the previous resistance around $7,000 could probably offer solid support in case of retracement.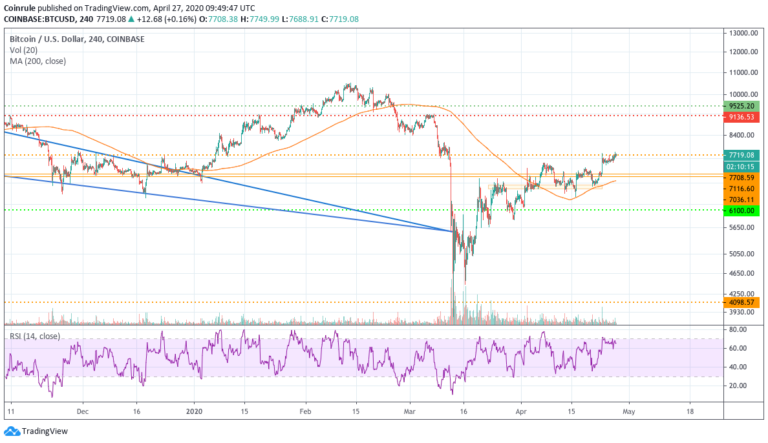 Let's now have a look at what we can expect from the Altcoin market. Bitcoin's dominance since the end of March had a steady decline. That means that the Bitcoin moved slightly up in this period, but the broad capitalization of Altcoin grew faster than the price of Bitcoin, which is something very encouraging. That could offer interesting opportunities in the short term.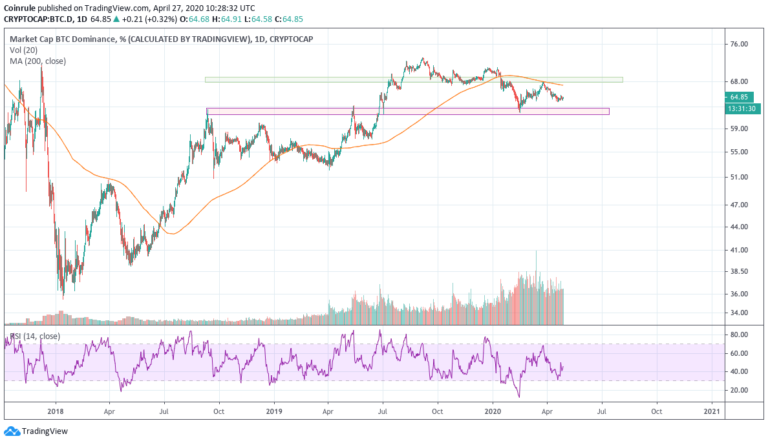 How to take advantage of that using a Moving Average trading strategy?
 I launched this rule yesterday, price crossover with momentum trading with my BNB wallet. Let's have a look at the trades executed so far. The strategy is trading quite a lot.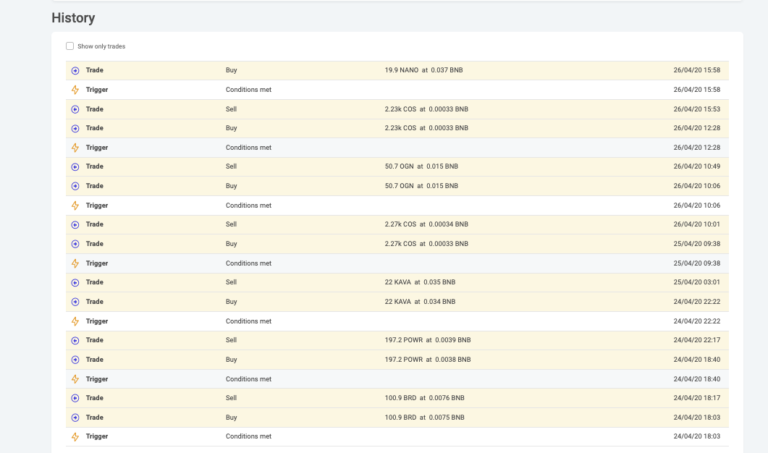 Let's see how I built this strategy. 
If any coin on the market has a price crossing above the moving average (200) in a timeframe of 15 minutes and that coin has an RSI greater than 60 in a timeframe of 15 minutes 
Then I'm going to buy $12. You can select the amount that you prefer, and choose the wallet you want to use for the transaction, in my case, the BNB wallet. 
When the price Has an increase of 2% from the price at which I bought
Then I'm going to close the trade selling 100% of that coin. 
How the strategy works
The best way to use a moving average in a trading strategy is to filter out periods of low volatility when the price is moving sideways. What I want to achieve with this strategy is to catch the crossover of the price above the moving average (200) coupled with certain price momentum. That could indicate that a breakout could lead to a stronger uptrend right after.
In the example below, the strategy bought and sold KAVA vs BNB successfully. The decision to take profit at 2% is arbitrary. I decided to use a conservative approach, given a still broad uncertainty in the market. You can adjust that to your own preferences.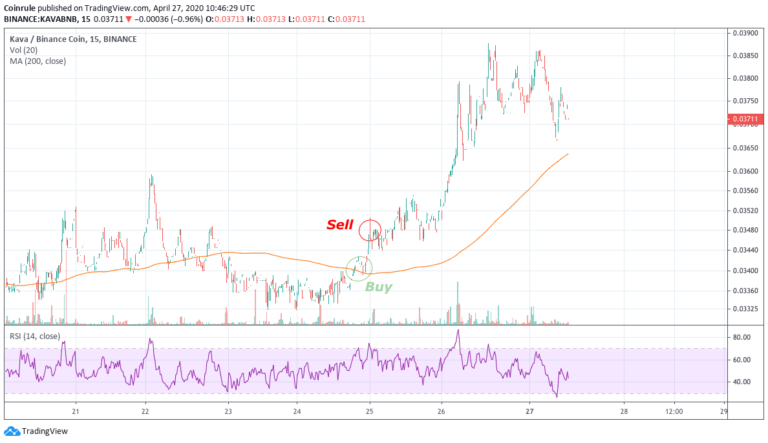 This is an automatic strategy that you can run whenever you notice a positive sentiment and volatility increasing on Altcoins.
Didn't find any solution?
Get in touch with us via the Live Chat or Contact Us Page!