How to use Volatility stop
The Volatility stop is an indicator that is used to determine the current price trends. This indicator plots red dots above price bars during downward trends and green dots under price bars during an uptrend.
This strategy is used as a trailing stop loss, to maximize profits, and to exit trends at the right time. Learn how volatility stops helps you exit trends correctly.
This video is a guide to set up a volatility trailing stop for your automated strategy on Coinrule.
How to set up a trailing stop with volatility stop on Coinrule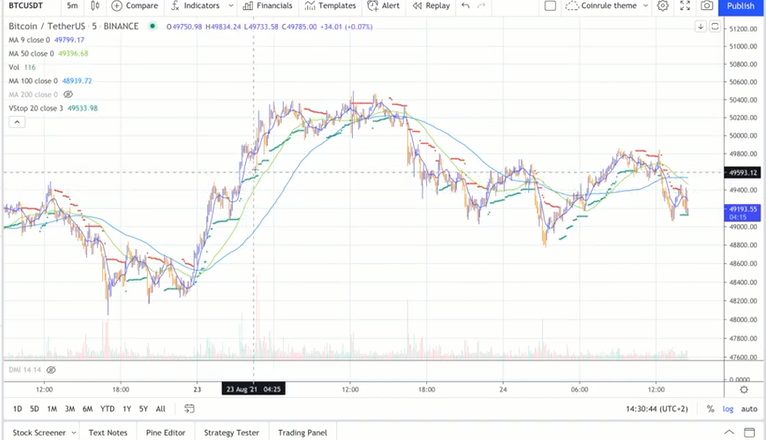 The trader can use a volatility stop to detect uptrends and downtrends. Once the price crosses the plotted level could point to a trend reversal. In this case, green dots indicate the current level of stop loss for your trade. These levels adjust with time and follow the trend, so you can efficiently lock the accrued profit.
One option to enter the trade is to catch trend reversals using Moving averages. In this example, crossing the MA9 and the MA50 below the MA100 could provide interesting buy opportunities. When the price hits the volatility stop, the bot will close the position.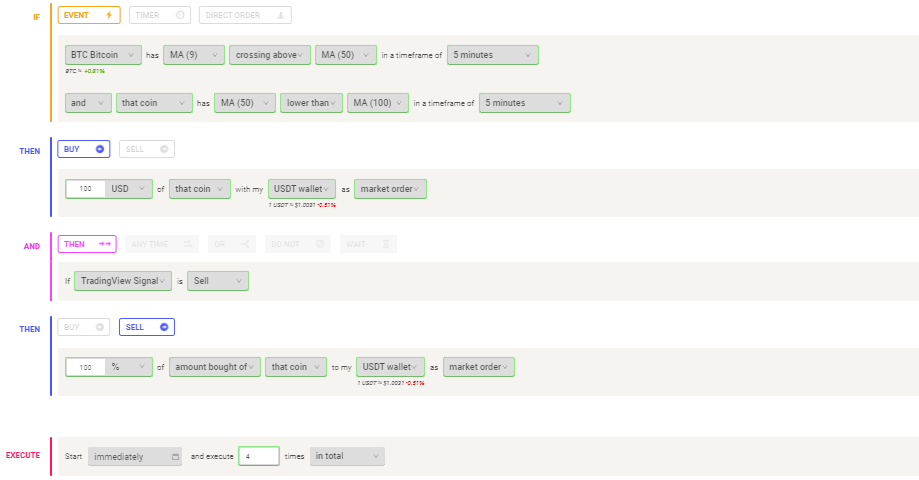 You can build this setup directly with Coinrule's editor. This rule will trade Bitcoin using the USDT wallet, trading the BTCUSDT trading pair on the market.
NOTE: You can customise your entry as you prefer, choosing among the many setups that the Coinrule's editor allows. Use the volatility stop then to close the position in an optimised way.
To close the trade, set the TradingView signal to "sell" and set the action to close the position. You are now ready to set up the alert on TradingView. Copy and paste the webhook URL first. Then, copy and paste the message.
Once the alert is created, you are ready to launch the rule on Coinrule.
Setting up a volatility trailing stop for your automated strategy has never been easier! Trade safely!
Didn't find any solution?
Get in touch with us via the Live Chat or Contact Us Page!