How to use MACD And DMI With Volatility Stop
Trade with MACD on Coinrule with TradingView signals. MACD is an advanced indicator for automated trading in Coinrule. Moving Average Convergence Divergence (MACD) is a trend-following momentum indicator. It shows the relationship between two moving averages.
In this video, you will learn how to set up optimise a strategy using the MACD, combining it with the DMI and the volatility stop.
Trend-following strategies are cool because they allow you to catch potential high returns. But they can also provide false signals when the asset is not experiencing a strong trend. The strategy, then, gets stuck with a sideways move or, worst, with the beginning of a downtrend.
This strategy tries to address this limitation to develop a trading system that optimises the entry and closes trade once the profit achieves a pre-set level.
How to set up alerts on TradingView
You can find the strategy in the list of indicators on TradingView, MACD + DMI with Volatility Stop. Read more about how the strategy works on TradingView.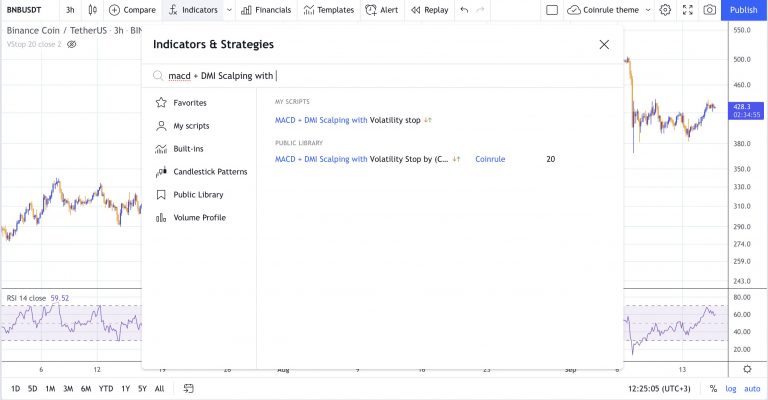 Once you apply the script to the chart, you can see that it tends not to trade during periods of a downtrend. The script includes a fee of 0.10% to make the results more realistic.
And you can tweak the setup, for example, by changing the level of take profit. When you are happy with the setup, you can connect the strategy to Coinrule.
How to set up the strategy on Coinrule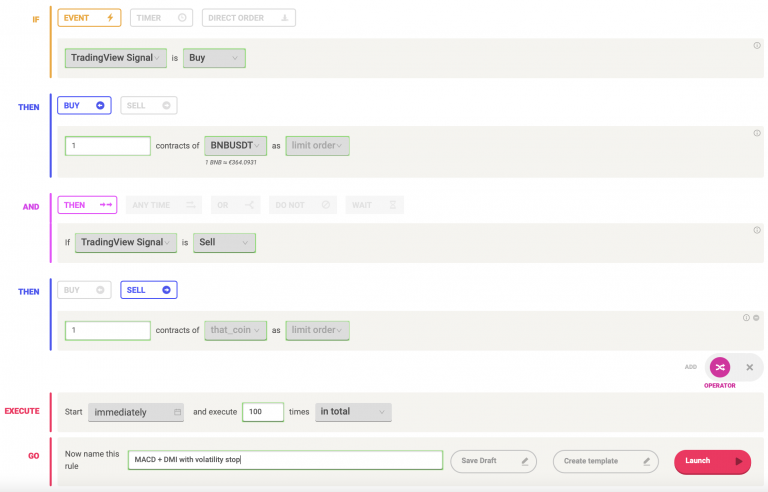 On Coinrule, you will set the signals as triggers of the orders. You will choose the number of times you want the rule to execute and name the rule. In the summary, you will get the relevant data to connect the strategy to Coinrule.
First, make sure the URL of the webhook is correct. Then, copy and paste the message. You can use this variable so that the TradingView will send a "buy" or "sell" signal depending on the side of the order the strategy should trade. Now that the alert is set up, you can launch the rule on Coinrule.
You have now created an automated trading strategy with the MACD, DMI and the volatility stop.
Created: September 16, 2021
Didn't find any solution?
Get in touch with us via the Live Chat or Contact Us Page!