Automated Trading With Candlestick Patterns
Automated trading with candlestick patterns can be considered an advancement of the age-long tool for predicting price direction. With the integration of TradingView signals on Coinrule, trading with candlestick patterns just got easier.
There are various candlestick patterns, you can learn more about them and start trading on Coinrule.
This video will guide you on how to set up an automated strategy based on candlestick patterns on Coinrule.
How to automate trades using candlestick patterns
For instance, this strategy will be set to execute trades on BTC using the USDT wallet. The bot will then trade the BTCUSDT trading pair. All you need to do is to set the rule to trade based on a buy and sell signal from TradingView.
Once you click on Launch, you will get the data to copy and paste into the TradingView alert.
On Tradingview, select the trading pair and the time frame you want to trade. In this case, BTCUSDT on the 1-hr time frame on Binance. Click on indicators and strategies. You will find the list of candlestick patterns you can select.
Bullish and bearish engulfing are useful patterns that can help you catch trend reversals. They are more effective on higher time frames, such as 1-hr or 4-hr. They help you spot quite precisely the best time for buying and selling the asset.
How to set up the buy and sell signals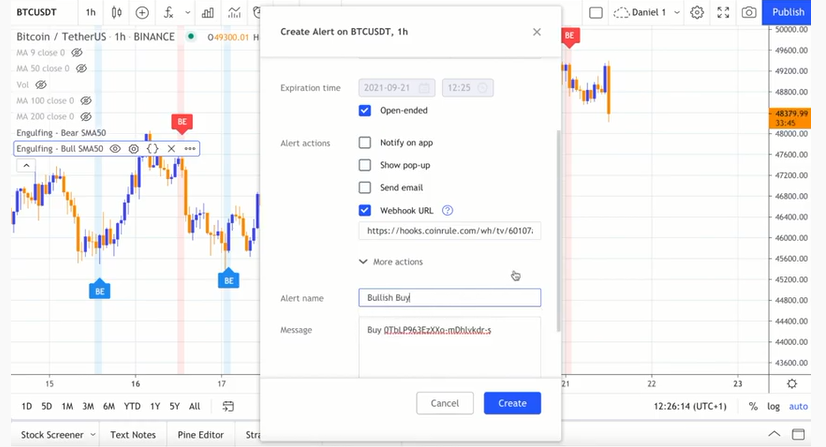 Once you are happy with the indicator setup, you can set the alert by copying and pasting the needed data from the rule summary on Coinrule.
In this case, the Bullish signal will send the buy signal, so you need to write "buy" into the message of the alert. Also, make sure the URL of the webhook is correct and create the alert.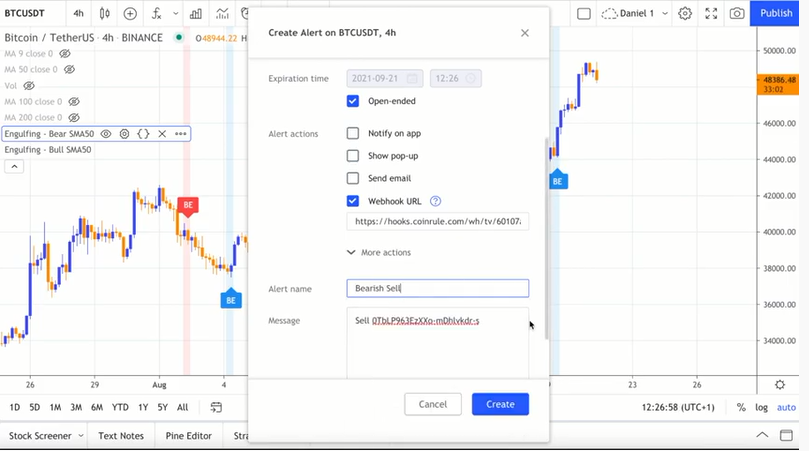 Then set up the "sell signal". You also have the flexibility of setting it up in a different time frame. In this example, we will use the 4-hr. Copy and paste the webhook URL and set up the message. This time, you need to use "sell" plus the needed token.
Now that both alerts are set up, you can launch the rule on Coinrule.
You have now created an automated trading strategy with candlestick patterns on Coinrule. Trade safely!
Didn't find any solution?
Get in touch with us via the Live Chat or Contact Us Page!