Backtest A Trading Strategy With Tradingview And Run It On Coinrule
One of the most common questions we get about coinrule is: what are the returns I can expect on my trading strategies? In this article, we will present how to backtest a trading strategy with Tradingview and run it on Coinrule.
Since you can build hundreds of different trading strategies on Coinrule, running on so many different coins, it isn't straightforward to reply with a quick and unique answer. The good news is that you can backtest some trading strategies using Tradingview to check the historical returns. A powerful tool that most crypto traders use every day.
Our social trading account
On Tradingview, you will find the Coinrule account, which we regularly post our trading scripts. We publish automated trading strategies that you can quickly run on your account using Coinrule.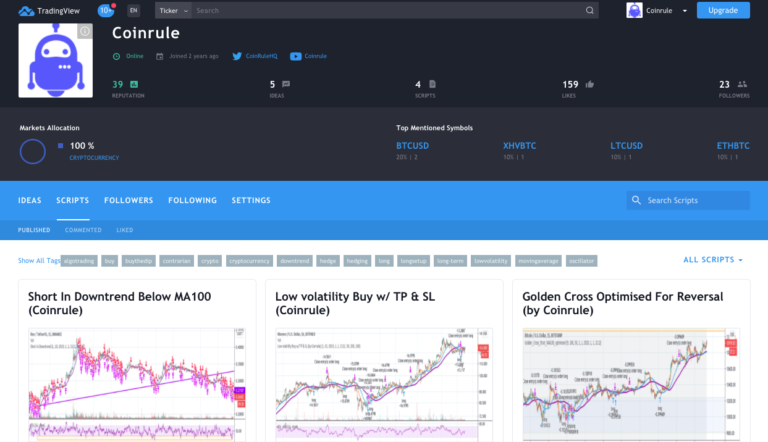 For each script, you will find a detailed description of the parameters of the trading strategy so you can apply them easily into the Coinrule trading editor.
Backtest a trading strategy with Tradingview
Let's have a look, for example, at Low Volatility Buy + TP & SL. The buy signal comes when the MA 200 is greater than the MA 100, and the MA 50 is greater than the MA 100. Each trades comes with a take profit at 8% and a stop loss at 4%. The presented trading system is optimized in a one-hour time frame.
To backtest a trading strategy on Tradingview, select the coin of your preference, set the desired time frame, and add the trading strategy to the chart.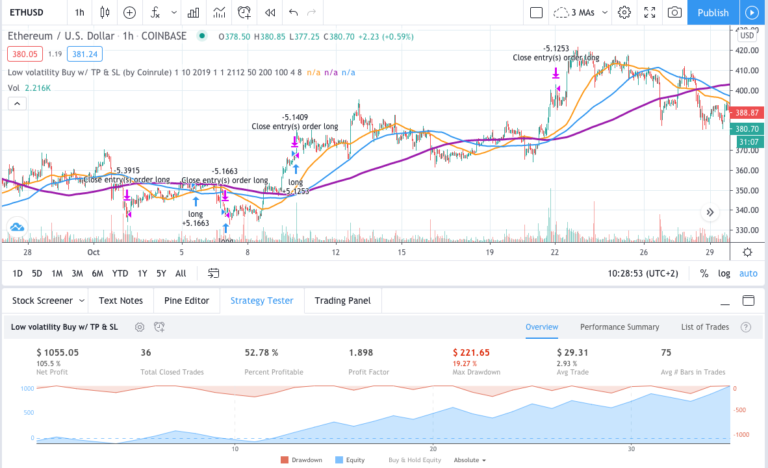 Tradingview shows the net profit that the strategy would have returned, how many trades the strategy open and closed, the percentage of profitability of the strategy, the maximum drawdown of the strategy, and the profit factor. These are more important indicators that will tell if this trading system fits your need or not.
The chart shows precisely when the strategy would have executed, allowing a better understanding of how the trading system works.
You can adjust all the relevant parameters to see in real-time how results would have changed based on these changes.
To have more realistic results from the backtest on Tradingview, set up an initial capital aligned to what you expect to invest with this trading system. You can also add a commission on each trade. Some trading strategies may look profitable, but when you account for the fees, then you realize that they're not that profitable after all.
How to run this strategy on Coinrule
In a matter of clicks, you can backtest this trading strategy on Tradingview on many coins, experimenting with different setups, such as the triggers for profit and loss. When you are ready, you can set up this trading strategy on Coinrule in just a few steps.
You can decide to run this strategy on the coin that returned the best results from the backtests on Tradingview, or you can let the bot trade all coins available on the market if you feel confident in the setup so that you can catch more opportunities.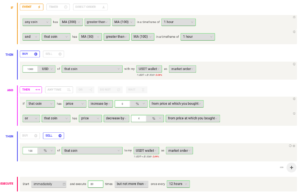 This is an automatic strategy that you can work in most market conditions. Being a long strategy it may underperform in times of broad market downtrend.
Created: November 4, 2020
Didn't find any solution?
Get in touch with us via the Live Chat or Contact Us Page!