Catch The Dips After Bitcoin Breakout
The crypto market broke higher, especially Bitcoin and Ethereum, are leading this price rally. Previously, we identified a resistance area around 7700 USD for Bitcoin. And as soon as we broke this level, the price jumped up almost vertically. Buy the dips after Bitcoin breakout could be an interesting strategy to trade following the macro trend.
So what we can expect from here?
If we draw a line that passes through the previous three tops, we can identify an upward channel that was clearly broke with this rally. It's common to see an uptrend fading after three consecutive new highs. What we saw, instead was the price heading lower only to find support around the area between $6600 and $7000. From there, Bitcoin kept going up, consolidating before this major breakout.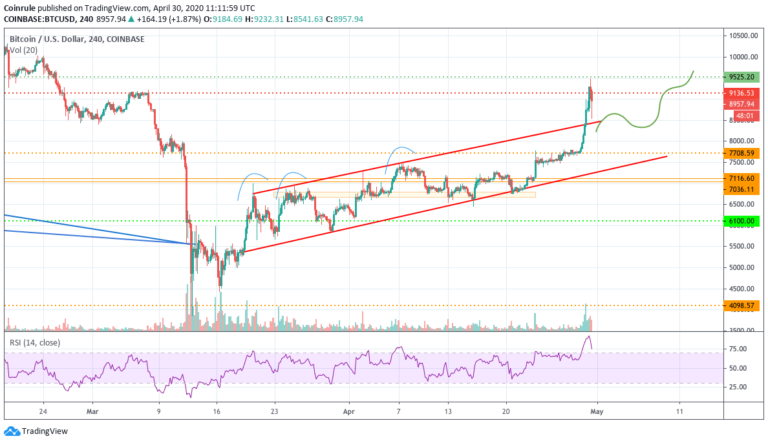 This is a sign of underlining strength and substantial demand for Bitcoin. So what I would expect here now? 
When the buying pressure slows down, we should see some sideways moves. And you could take advantage of this set up with Coinrule.
Buy the dip of a Bitcoin breakout with Coinrule
I would set up a strategy that buys the dips of Bitcoin and then tries to sell the rebounds. 
Let's zoom in on the 15-min chart to try to see how we can set it up properly. How to define the percentages in the strategy? 
I usually look at the preview price actions as they provide excellent insight into what we can expect from future moves. 
I use Tradingview to calculate the magnitude of previous price decreases and also the timeframe in which they happen. Often, in a time frame of two or three hours, shakeouts of around 2% on down occur.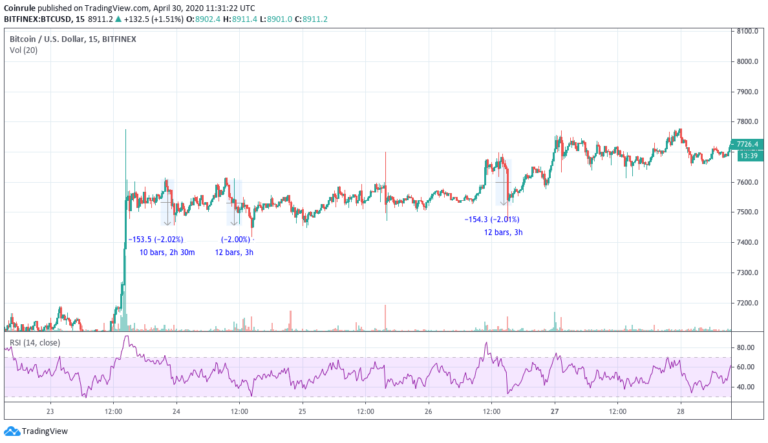 Keeping that in mind, I will set up the following strategy.
If Bitcoin price has a price decrease of 2% in a timeframe of three hours
I buy 20 USD of Bitcoin with my BUSD wallet. 
Then, if that coin to have a price increased by 2.5% or a price decreased by 1% from the price at which I bought 
I am going to sell 100% of Bitcoin back to my BUSD wallet.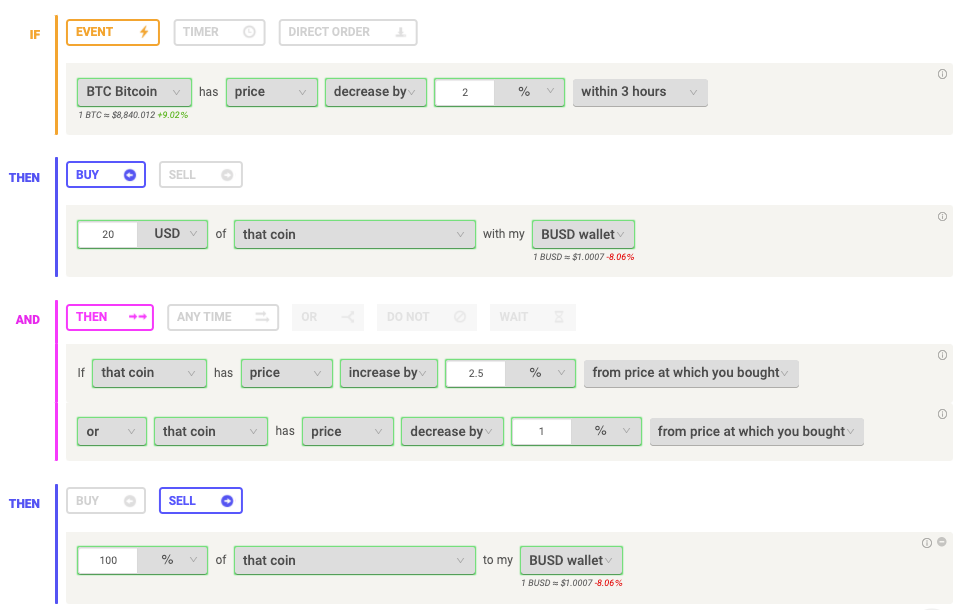 So I will set this rule to run five times in total, and I will launch it.
This rule will perform better in an uptrend with volatility. Buy the dips of a Bitcoin breakout allows you to follow a macro uptrend. The more drops and rebounds there will be, the more the rule should catch better these buy-opportunities.
Didn't find any solution?
Get in touch with us via the Live Chat or Contact Us Page!