Selling Altcoins With Bitcoin Dominance Rising
Bitcoin has been weakening for a few weeks, while Altcoins has consistently overperformed over the same period, pushing significantly lower the Bitcoin dominance. At least a short-term reversal of this trend was very likely. Therefore, selling Altcoins on Bitcoin dominance rising is a profitable strategy to hedge against the risk of significant market drops.
A quick look at Bitcoin Dominance
Horizontal lines are powerful tools, and they can be the most valuable long-term indicator to anticipate strong price moves. For example, over the past couple of months, Bitcoin has been ranging between area $40,000 and $60,000. So when the price didn't manage to print a higher high on the last attempt and then failed the restest of the support at the beginning of the week, that was a warning sign.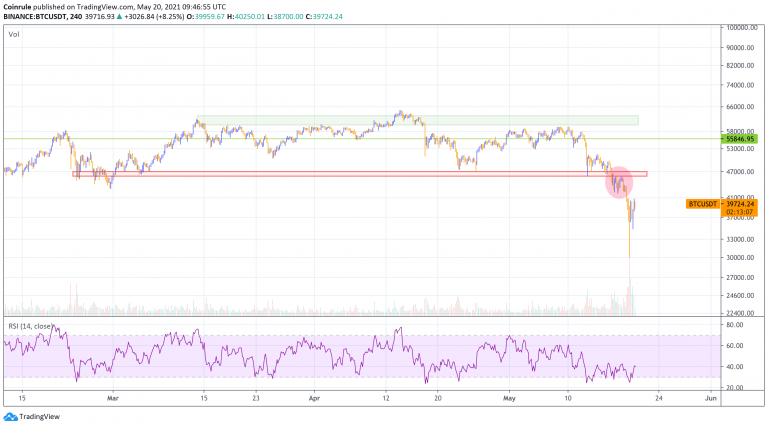 During the same period, Altcoins have been overperforming Bitcoin significantly, resulting in a collapse of Bitcoin Dominance. The capitalization of Bitcoin compared to the whole Crypto market was not that low since May 2018.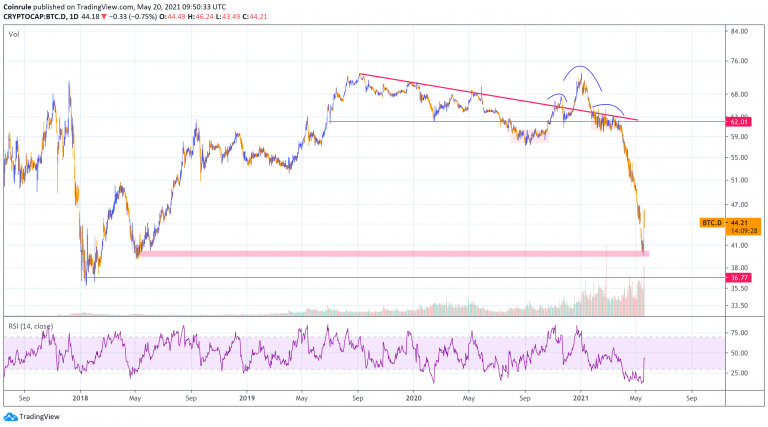 The downside risk for Bitcoin was posing an even greater risk for Altcoins, as traders were tempted to profit on their positions. However, keep in mind that when the price is that overextended, investors and traders who capitalized significant gains are much less sensitive to the executed price of their exit orders. At the same time, latecomers may easily panic sell. These two elements explain, at least in part, the sharp price drop in the Crypto market these days.
So how to take advantage of this setup?
Instead of rushing into panic selling, you can plan an automated strategy to offload part of your Altcoins when Bitcoin Dominance reaches overextended levels. In this case, the strategy periodically sells part of the best performing coins and converts them into Bitcoin.
Of course, you prefer a more conservative approach, you could also choose to select a Fiat or a stablecoin wallet to trim further the risk of your portfolio.
This strategy calculates the best performing coin in your wallet according to a 24-hr rolling basis logic. Coinrule uses data from Coingecko for this indicator. 
You can adjust the percentage to sell in each order and the frequency of the trades according to your preferences and expectations.

This is a simple yet effective approach that allows you to reduce the risk of your portfolio. In addition, once you rebalance your wallet during times of market volatility, you will have more available capital to accumulate in time of consolidation.
Other trading strategies like Maximized RSI Strategy and Moving Average Scalper will come in handy as new signs of market strength will occur.
Didn't find any solution?
Get in touch with us via the Live Chat or Contact Us Page!