Pyramiding Entries On Early Trends
Pyramiding the entries in a trading strategy may be risky but at the same time very profitable with a proper risk management approach. This strategy is based on pyramiding entries on early trends, spotting early signs of uptrends to increase the position's size while favorable conditions persist.
Each trade comes with its stop-loss and take-profit to enforce a proportional risk/reward profile.

Buy Condition

The strategy uses a mix of Moving Average based setups to define the buy-signal.
The Moving Average (200) is above the Moving Average (100), which prevents from buying when the uptrend is already in its late stages
The Moving Average (9) is above the Moving Average (100), indicating that the coin is not in a downtrend.
The price crossing above the Moving Average (9) confirms the potential upside used to fire the buy order.
The strategy is optimized on a 1-hour time frame.
Sell Condition
Each entry comes with a stop-loss and a take-profit in a ratio of 1-to-1. After over 400 backtests, we opted for a 3% TP and 3% SL, which provides the best results.
You can adjust the parameters and backtest the outcomes using the backtesting tool from Tradingview. Select the coin of your choice and apply this trading script to the chart.
How it Works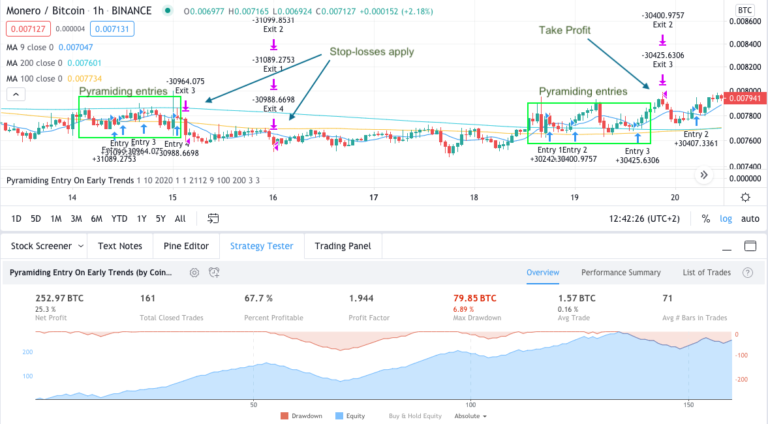 The Advantages of this strategy are:
It offers the possibility of adjusting the size of the position proportionally to the confidence in the possibilities that an uptrend will eventually form.
Low drawdowns. On average, the percentage of trades in profit is above 60%, and the stop-loss equal to the take-profit reduces the overall risk.
This strategy returned good returns both with trading pairs with Fiat/stable coins and with 

BTC

. Considering the mixed trends that cryptocurrencies experienced during 2020 vs 

BTC

, this strengthens the strategy's reliability.
How to Build the Strategy with Coinrule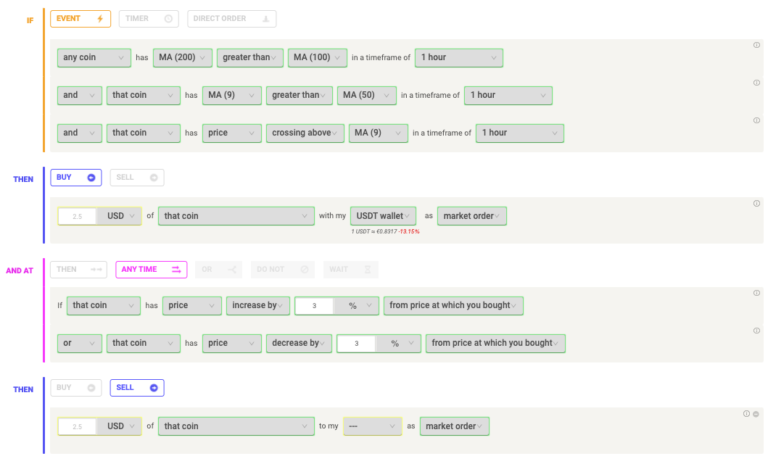 On Coinrule, connecting the action block with the Any Time Operator, enable pyramiding entries in the trading strategy.
Created: December 17, 2020
Didn't find any solution?
Get in touch with us via the Live Chat or Contact Us Page!