Multi Time Frame Moving Average Crossing Strategy
This strategy seeks to optimise a well-know strategy based on a moving average crossing strategy, MA9 with MA50. Buy and sell signals are calculated on different time frames to improve the results of the strategy.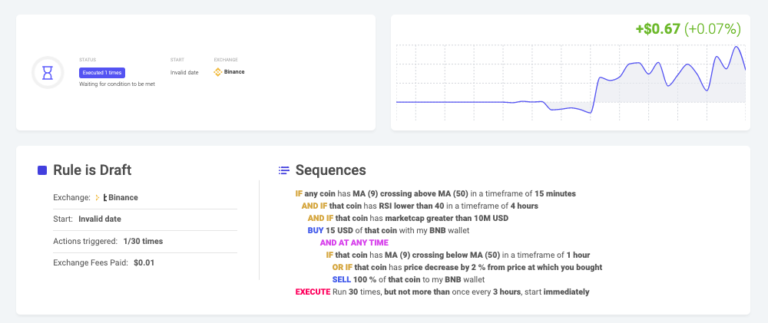 First Condition, The Buy-Signal
The rule buys the coin that meets the following condition.
MA9 crossing MA50

. This is a common indicator that a new uptrend is forming. The strategy is based on a 15 minutes time frame to spot the ideal entry-point.

RSI lower than 40

. Identifying coins that are oversold on a larger time frame could help spot those that have more upside potential.

Market Cap above $10 million

. Avoiding coins with a low market cap helps to avoid illiquid coins, whose thin order books may lead to inconvenient executions.
Second Condition, The Sell-Signal
The strategy present two options for selling the coin bought, in profit or alternatively in loss.
Take Profit

. Again, the rule will sell the coin when the MA9 crosses below the MA50. Using a slightly larger time frame for the calculation of the indicator for the sell signal allows potentially to ride longer the uptrend. In this case, the strategy uses a 1-hour time frame for selling versus the 15 minutes for buying.

Stop-loss

. The percentage of the stop loss is arbitrary. That depends on the volatility of the market and the maximum loss that the trader would tolerate.
How It Works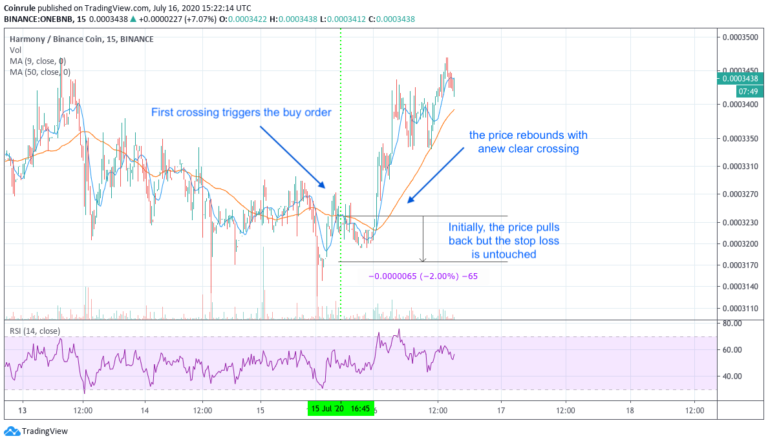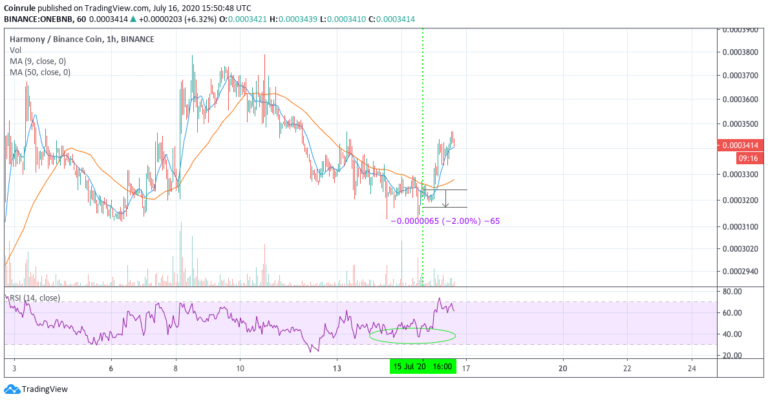 How To Build This Strategy With Coinrule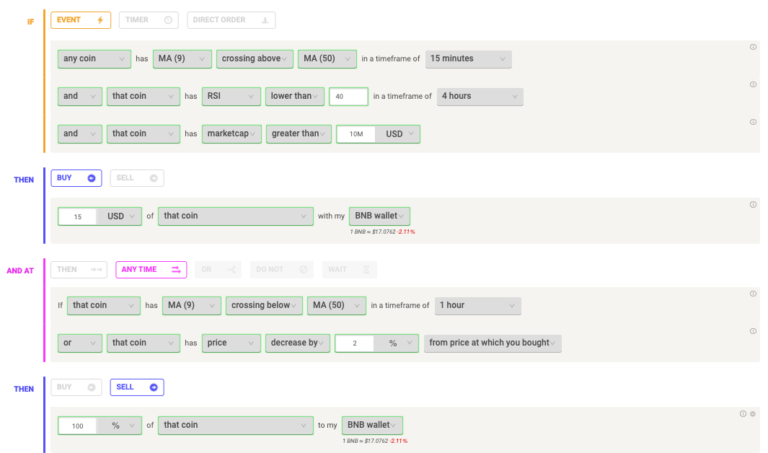 Do you want to learn more about how Coinrule works? Have a read here.
Create your own rule moving average crossing strategy now!
Trade safely
All information contained in this post should be independently verified and confirmed. I can't be found accountable for any loss or damage whatsoever caused in reliance upon such information. Please be aware of the risks involved with trading cryptocurrencies.

Didn't find any solution?
Get in touch with us via the Live Chat or Contact Us Page!