Maximized Moving Average Crossing
Using the crossings of two Moving Averages to trade in a trading strategy is a Trend-Following approach. As the name would suggest, to be successful, it requires the asset to be on-trend.

The general limit of a common strategy based on Moving Averages is that they underperform when the market is less volatile or trading sideways. When volatility compresses, the indicators get very close one to another, crossing each other very often. That's exactly the condition when trend-following strategies underperform.
To improve this strategy, it's useful to filter the buy signal using the RSI. When the RSI is close to overbought conditions, that means that the coin is likely trading in an uptrend. Strong uptrends usually come with RSI values that stay overbought for long periods, creating interesting opportunities.
Buy Condition
When the MA9 crosses above the MA50, and at the same time, the RSI has a value greater than 55.
By adding the RSI filter to the buy condition, we are able to focus on coins that are likely trading in an uptrend.
Sell Condition
The MA9 crosses below the MA50.
The MA9 crossing below the MA50 typically suggests a trend reversal, signaling an optimal sell opportunity.
How it Works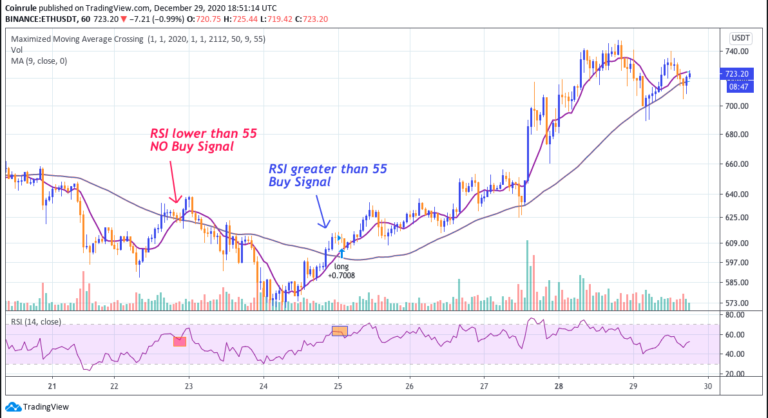 The strategy is optimized to provide better results on the 1-hr time frame, but it could work well also on higher time frames, such as the 4-hrs.
The strategy assumes each order to trade 30% of the available capital and opens a trade at a time. A trading fee of 0.1% is taken into account.
How to Build the Strategy with Coinrule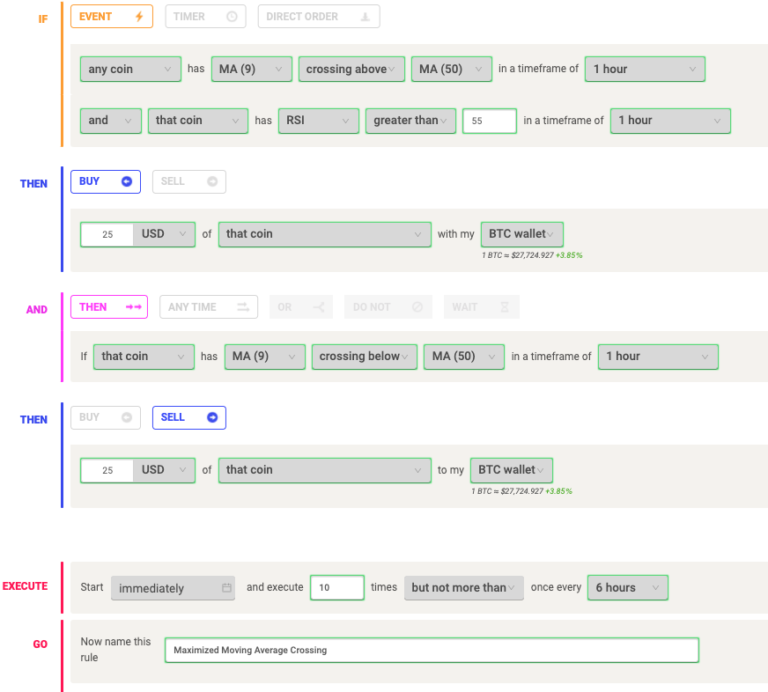 You can backtest this strategy on TradingView.
This strategy can be found in the templates section under "Maximized Moving Average Crossing".
Created: December 30, 2020
Didn't find any solution?
Get in touch with us via the Live Chat or Contact Us Page!