Dip-scalping On Reversal
This strategy seeks to catch a short term rebound of coins after a sharp sell off. The coin is held for a short period of time and a tight stop loss is used to protect the trade.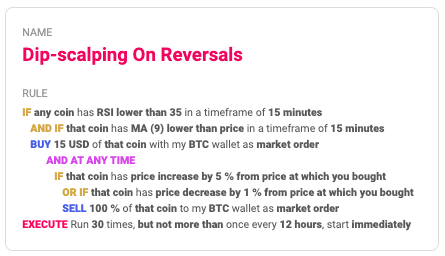 First Condition, The Buy-Signal
The rule buys the coin that meets the following condition.
RSI lower than 35

. The coin should present oversold conditions

Price above the MA(9)

. This potentially signals early sign of reversal.
Second Condition, The Sell-Signal
The bot present two options for selling the coin bought, in profit or alternatively in loss.
Take Profit

. The take profit is set to 5%. Buying a coin in oversold conditions is very risky. Setting up a larger take profit helps compensate that risk.

Stop-loss

. The percentage of the stop loss is set to 1%. A tight stop loss prevents from getting stuck in severe downtrends.
How It Works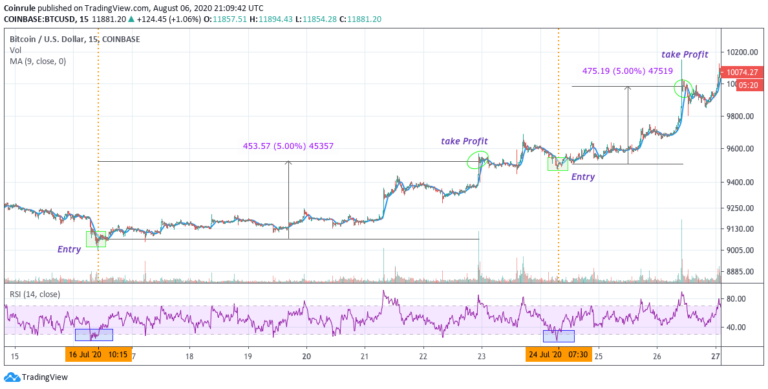 This is the ideal market setup for this strategy. The strategy performs better in times of uptrend. The objective of the rule is to catch strong reversals on dips.
How To Build This Strategy With Coinrule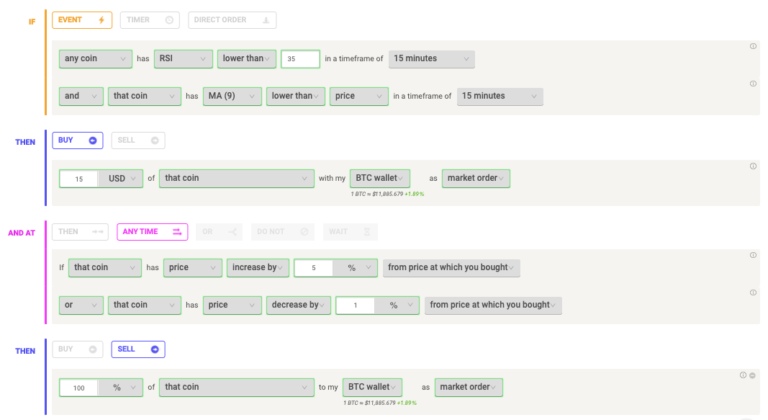 Do you want to learn more about how Coinrule works? Have a read here.
Create your own rule with technical indicators now!
Trade safely
All information contained in this post should be independently verified and confirmed. I can't be found accountable for any loss or damage whatsoever caused in reliance upon such information. Please be aware of the risks involved with trading cryptocurrencies.

Didn't find any solution?
Get in touch with us via the Live Chat or Contact Us Page!