Altcoin Scalping In Downtrend
During the Bull Market, traders found buying the dip as one of the most profitable strategies, which resulted in great returns. However, while this is a profitable long-term option when the market is trending up, it may suffer from drawdowns when short-term price corrections hit. An Altcoin scalping strategy allows you to accumulate more Bitcoin on the way down with no need to commit more capital.
When prices trend down, you can run a scalping strategy to sell short-term price rebounds and then buy back lower.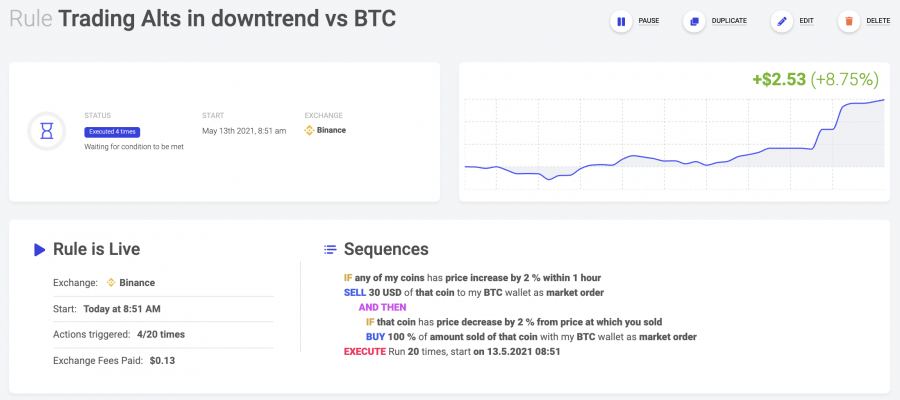 Sell Condition
The bot scans the market to check when any of the coins in the wallet increases by 2% in a one-hour candle. In a downtrend, selling has a better risk/reward. Following the trend on the downside, the trade is more likely to end in profit.
Buy Condition
The strategy tries to scalp Altcoins in the downtrend when the price decreases by 2%, re-buying the coin previously sold.
Additionally, you can also add a stop loss to re-buy the coin in case the coin keeps increasing.
That would prevent from buying back at a much higher price. Also, it would help to close quickly not profitable trades so that the bot can move on to the next opportunity.
How to Build the Strategy with Coinrule
Altcoin scalping in a downtrend is a very handy strategy that helps turn adverse market conditions into an opportunity to accumulate more of your coins.
Pro Tip: Altcoins tend to underperform Bitcoin during downtrends. If you run the strategy using the BTC wallet, that should increase the chances of being profitable. 
Pro Tip 2: Setting up the second action to buy back the same amount of coins you sold will result in accumulating more of the quote currency you are trading. If you prefer accumulating more of the coins the strategy will trade, you may want to set the same USD amount for both actions. 
Didn't find any solution?
Get in touch with us via the Live Chat or Contact Us Page!