Protect With The Gold Standard Of Crypto
The crypto market has been weakening for a few weeks, and altcoins have been underperforming. Bitcoin dominance appears to have bounced back and is now consolidating. A short-term reversal of the altcoin boom was very likely after the excitement of the last few months. Therefore, now that it appears that the raging bull market is subsiding/over, selling altcoins in exchange for Bitcoin and then re-buying them at lower prices is a profitable strategy to hedge against the risk of significant market drops. We are suggesting buying the gold standard on Bitcoin Dominance.
A quick look at Bitcoin Dominance
Consolidation is a valuable indicator and, in a longer-term, can be used to anticipate strong trends/price moves. For example, over the past few weeks, Bitcoin Dominance has bounced back from 40% to 45% and has been consolidating upwards. So, when the value bounced off historical support levels and moved further back up, the market began giving reverse signals on the altcoin boom.
During these past few weeks, altcoins have been underperforming Bitcoin significantly, resulting in this recovery of Bitcoin Dominance. The capitalization of Bitcoin compared to the whole crypto market has not been this low since May 2018. Once we look at the last 4 years of this chart, we see that altcoins tend to outperform Bitcoin during raging bull markets, but then Bitcoin tends to claw back its dominance and market share over the subsequent months.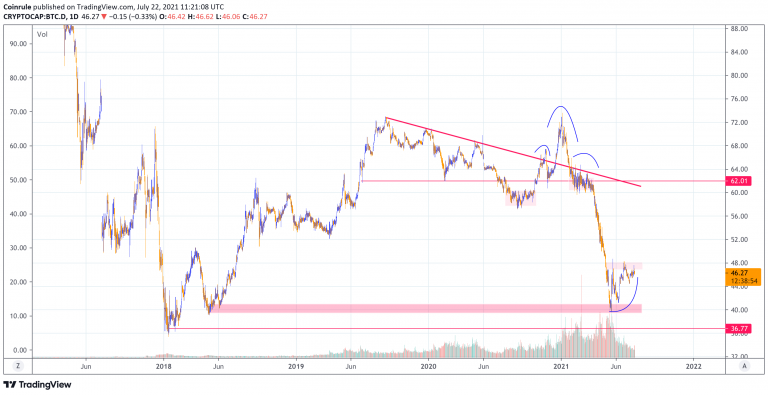 Basically, what we are seeing here and over time is that as the crypto market quiets down, traders book profit on their altcoin positions and return to safety on Bitcoin, the gold standard of the crypto market. This is especially true for those who want to maintain some exposure to the crypto market without the gut-wrenching drawdowns that many alts are prone to experiencing.
So how to take advantage of this setup?
Instead of panic selling in a hurry, you can plan an automated strategy to offload your altcoins one at a time and then re-buy them if they fall far enough. In this case, the strategy periodically sells part of your worst-performing coin and converts it into Bitcoin, and then buys it back when it has fallen even further. This way you keep gaining on the alts that are doing well, while simultaneously making extra profits on underperformers. These are substantial profits that you would not have made otherwise.
Of course, if you prefer a more conservative approach, you could also choose to select a fiat or a stablecoin wallet to further trim your portfolio's risk.

This strategy calculates the worst performing coin in your wallet according to a 24-hr rolling basis logic. Coinrule uses data from Coingecko for this indicator. 
You can adjust the value/percentage of the worst-performing coin to sell in each order and the frequency of the trades according to your preferences and expectations.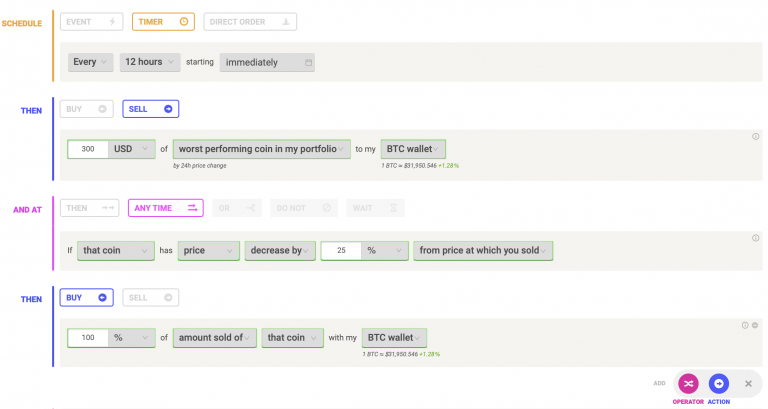 This is a simple yet effective approach that allows you to reduce the risk of your portfolio and generate extra gains on falling altcoins. To emphasize, you will gradually gain some extra BTC during such times of altcoin volatility and overall market consolidation.
Other trading strategies like Maximized RSI Strategy and Moving Average Scalper may also come in handy as new signs of market strength develop.
Didn't find any solution?
Get in touch with us via the Live Chat or Contact Us Page!