Trend Following Scalping With Loss Protection
The trend following scalping with loss protection combines a trend-following approach to scalp short-term price moves with a dynamic stop loss on trades based on the system's overall performance.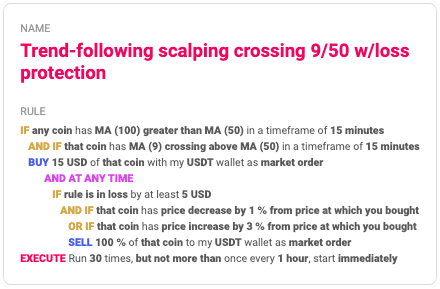 First Condition, The Buy-Signal
The rule buys the coin that meets the following condition.
MA100 greater than the MA50 on a 15-minute time frame

. The coin is in a downtrend in the short-term.

MA9 crosses above the MA50

. This potentially signals early signs of reversal and momentum.
Second Condition, The Sell-Signal
The bot presents two options for selling the coin bought, in profit or alternatively in loss.
Take Profit

. The take profit is set to 3%. The percentage is set arbitrarily and can be adjusted according to personal preferences. The more the trader wants to keep the position open, the higher can be the percentage. Times, when the market is showing strong uptrends, may fit with higher percentages as well.

Stop-loss

. The percentage of the stop loss is set to 1% and applies when the overall loss of the rule is below a certain threshold. 
How It Works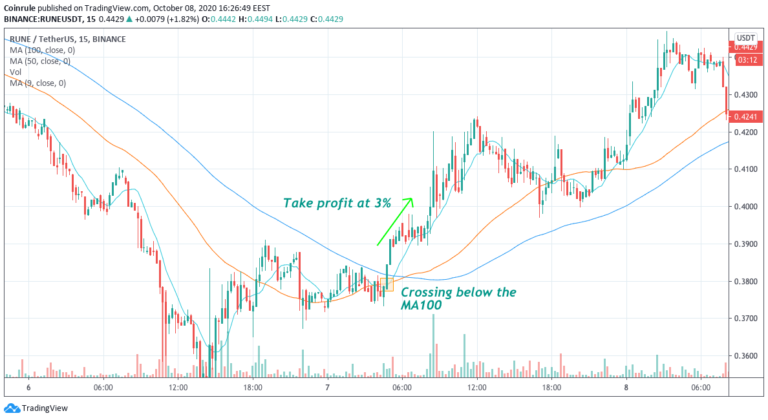 The main advantage of a trend following scalping with loss protection is to allow more tolerance for volatility on each trade when the overall performance is good.
As the strategy's loss increases, a tight stop loss applies to each trade to switch to a more conservative approach.
How To Build This Strategy With Coinrule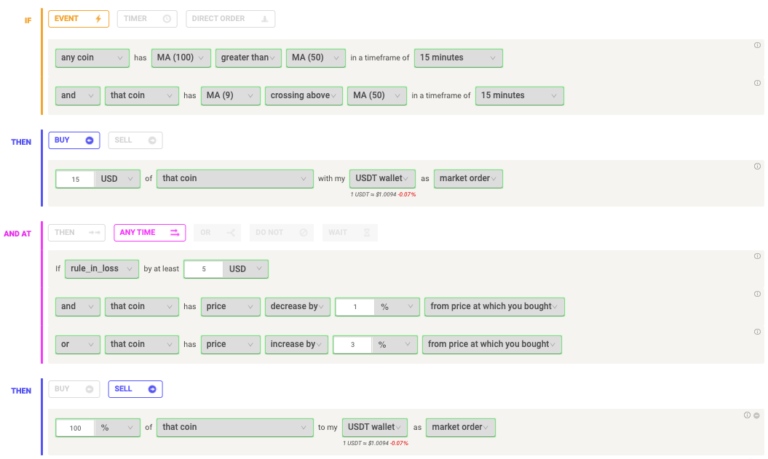 Do you want to learn more about how Coinrule works? Have a read here.
Create your own rule with technical indicators now!
Trade safely
All information contained in this post should be independently verified and confirmed. I can't be found accountable for any loss or damage whatsoever caused in reliance upon such information. Please be aware of the risks involved with trading cryptocurrencies.

Didn't find any solution?
Get in touch with us via the Live Chat or Contact Us Page!