Short Selling In A Downtrend Below MA100
Times of price drops happen even during the steepest bull markets. Taking advantage also of downtrends allows to increase the returns and reduce the overall risk for the portfolio. Short selling in a downtrend a coin offers the opportunity of hedging the risk, compensating eventual loss on other coins in the wallet that the drop may negatively affect.

Sell Condition
The sell signal triggers when
the coin has MA (100) greater than the price in a timeframe of 15 minutes, meaning that the coin is in a short-term downtrend.
the coin has an RSI greater than 30 in a timeframe of 15 minutes, indicating that it didn't reach oversold conditions yet, so there is still room for a further price drop.
The rule keeps selling while the price stays below the MA(100). It's advisable to set low amounts for the sell orders. the position will grow gradually while the downtrend intensifies. Set a minimum time interval between the sell orders will also help to have control over the overall position size.
Buy Condition
The bot connects to each trade a stop loss and a take profit. The percentages are optimized for short term trades on mid-cap coins. You can adjust the percentages depending on the specific coin you are trading. A ratio of 1:1.5 between the stop loss and the take profit could work as the strategy trades in the same direction of the trend.
Stop loss at 3% from the entry price
Take profit at 2% from the entry price
A slightly larger stop loss allows tolerating more volatility to reduce the case of stops triggering when it shouldn't.
How it Works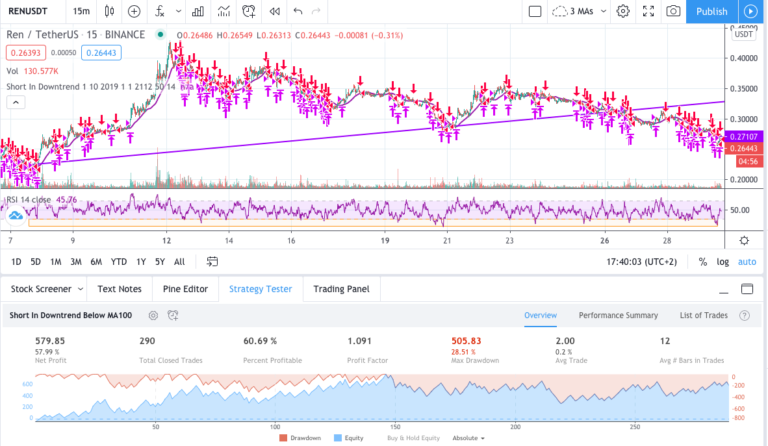 Backtesting the strategy on Tradingview returned positive returns especially on coins with medium market cap and high liquidity. Binance futures is the perfect venue where to run such a strategy. The exchange offers low fees on trades, which keeps the profitability high.
How to Build the Strategy with Coinrule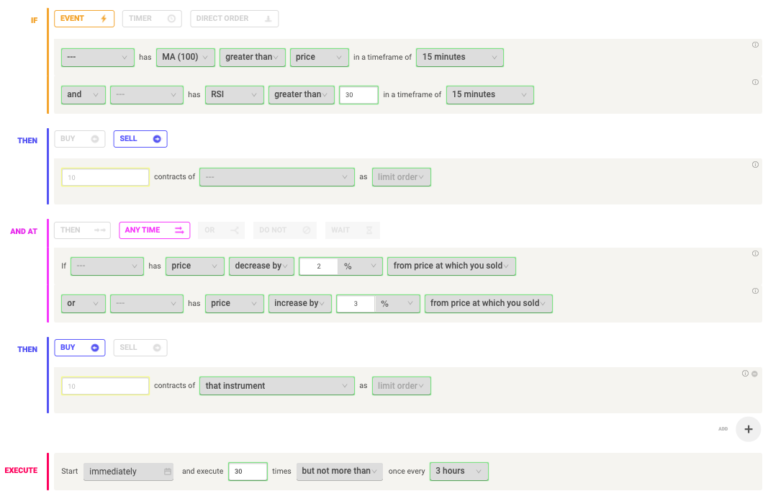 Selecting "any time" will result in opening multiple positions. In this case, the strategy adapts the position's size dynamically to market conditions.
📉The more the price goes in the expected direction, the more the size of the position increases. ✅
📈 The more the position slides in loss, the more the position is reduced. ✅
Created: October 29, 2020
Didn't find any solution?
Get in touch with us via the Live Chat or Contact Us Page!