Short Sell In A Downtrend - Ep 17
Market Analysis
While Bitcoin is trading on the upside, Altcoins are under pressure, and that provides the opportunity for short sell in a downtrend the coins that are currently weaker.
Looking at the BTC chart, we can see that we had two false breakouts over the resistance level of $13,223. One of the breakouts was minor, while the second was much more robust, reaching the resistance level of $13,800, before reversing and finding double support on the $13,223 level and the MA50.
Currently, the key support levels are $11,200 and $11,000 in the event of a reversal. If we do not breach these support levels, we anticipate that Bitcoin will continue to be Bullish. It is vital to note that we have reached a point where we have more support levels than we do resistance, indicating a very bullish scenario.
One of the main factors that influence Bitcoin's price is the correlation it has with the S&P 500. To examine this, we have plotted a chart with BTC against the price of the S&P 500. Analysis of how the price of bitcoin acts compared to the S&P price shows that in early March, both were moving closely in tandem. However, three weeks ago, this changed. We see that as a clear downtrend began for the S&P, the price of bitcoin entered into consolidation, followed by a breakout on the upside as the S&P was entering a sharp downtrend. This trend can be temporary. In the short term, if we see a large dip in the S&P price, we anticipate that this will affect the price of BTC negatively.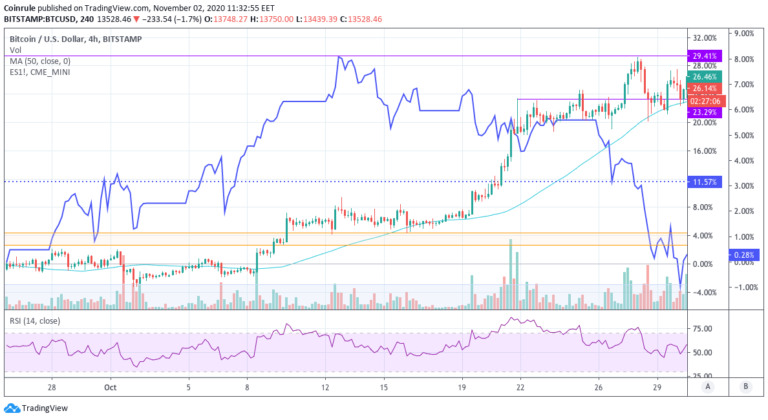 One of the coins that is looking weaker in the short term is REN. Looking at the graph of REN/USDT, we see that the price has broken out on the downside of the trend line, unlike Bitcoin. On a 15 minute timeframe, we see that the price is constantly retesting the MA50 on a 15-minute timeframe. We anticipate that the tradeoff is occurring on the downside and not on the upside, so it could be a good opportunity to short sell in a downtrend REN.
How to build a suitable strategy
To capitalize on this, we have created a rule to short sell in a downtrend 50 contracts of RENUSDT if the MA 50 is greater than the price. We have a take profit set at 2% and a stop-loss at 3%. It is always important to incorporate a stop-loss in any rule that trades futures.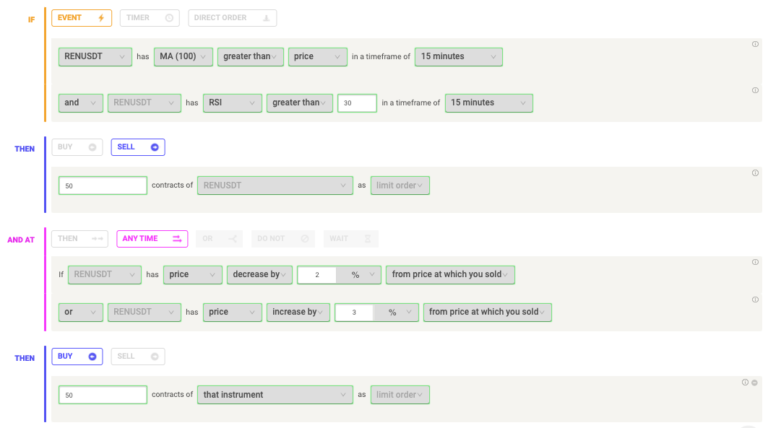 Created: November 2, 2020
Didn't find any solution?
Get in touch with us via the Live Chat or Contact Us Page!