Scalping Strategy On Yearn Finance
Yearn Finance showed a steady uptrend since the beginning of November. A trend-following scalping strategy on Yearn Finance returned interesting results in a short period. As the trend developed on the upside, this strategy traded the coin when the price conditions were more favorable.
Buy Condition
The trading system first identifies when Yearn Finance is on-trend. The buy-signals triggers when
The price is greater than the MA9 on a 1-hr time frame
The MA9 is greater than the MA50 on a 1-hr time frame
Sell Condition
Each trade is protected by a stop loss and takes profit on small price increases to secure the profits promptly.
Stop-loss at 3%
Take profit at 2%
How it Works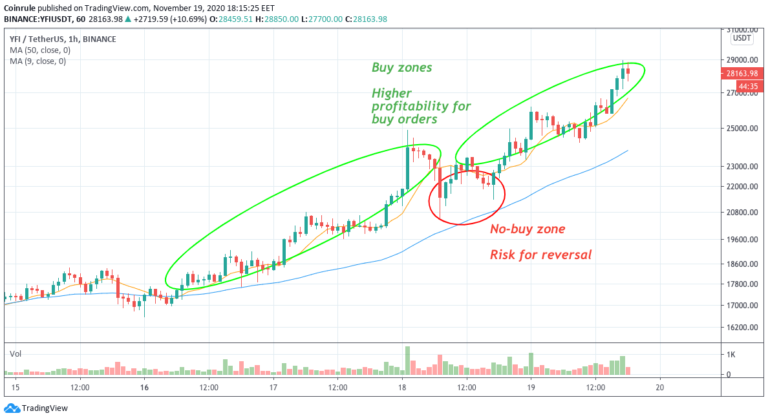 While YFI is trending on the upside, the rule keeps buying small amounts of coins. The strategy's advantage is that the position's size increases as the coin consolidates on the trend up.
Using a strategy like this, you would grow the position in parallel with the confidence in the system's profitability. As soon as the trend reverts, the rule stops buying, and your open trades remain protected by the stop loss.
How to Build the Strategy with Coinrule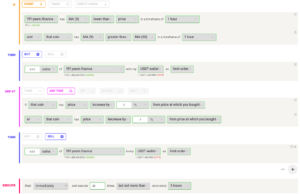 The original strategy was running on Binance Futures but you can use the above-presented setup to run it on the exchange of your choice.
One key aspect of the set up of such a trading system is defining the orders' frequency. Make sure you lower the size of the orders properly if are planning to get more executions. Use the "no more than" option before launching the rule to set the maximum frequency of the buy orders.
Created: November 19, 2020
Didn't find any solution?
Get in touch with us via the Live Chat or Contact Us Page!