Scalping Litecoin on Trend - Ep 19
Market Analysis
The last few weeks have been very interesting for Bitcoin. The price experienced a significant breakout. After a retest of the support, the price rebounded strongly. Nevertheless, the volume in recent days has been low compared to previous days during the price pump. From here, price action will be highly volatile, around the $16,300 range.
We are still accumulating Bitcoin with two rules, so it could be appropriate to trim the risk, launching another rule that could perform better with price drops. This strategy is included in our Template Library "Bitcoin during sideways market." It works well when Bitcoin's price trades in the same range with high volatility.
Looking at Litecoin's chart, it is clear that the price is about to break out from a range. We have previously identified solid supports at the level of $42.25 & $51.44. The price traded between this range for a while, bouncing off the resistance level and testing the support on more than two occasions before breaking on the upside. Now, a new upside is following the consolidation phase. All this considered, Litecoin is looking very bullish. This is an interesting opportunity for scalping Litecoin on trend.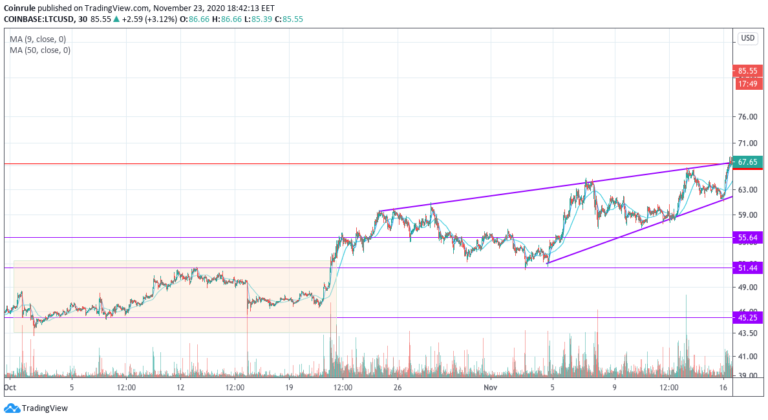 How to build a suitable strategy
We are still accumulating Bitcoin every day with a simple DCA strategy.

In parallel, we will scalp trades on Litecoin expecting a sustained uptrend if the resistance will be broken.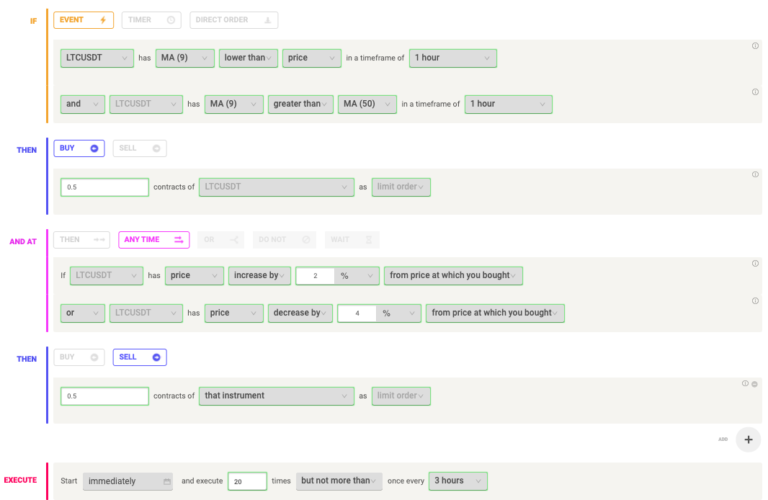 Using the "at any time" operator will enable the bot to open several trades at the same time scalping Cardano on trend. It's very important to set the number of executions limited by constraining the frequency of executions, for example, to no more once every three hours.
Created: November 23, 2020
Didn't find any solution?
Get in touch with us via the Live Chat or Contact Us Page!