Scalping Ethereum Dips
When the market is showing uncertainty, but at the same time, some coins develop early signs of an uptrend, it's appropriate to scalp small trades to reduce the risk of being exposed for too long. Over the last week, scalping Ethereum dips performed very well with minimum drawdowns.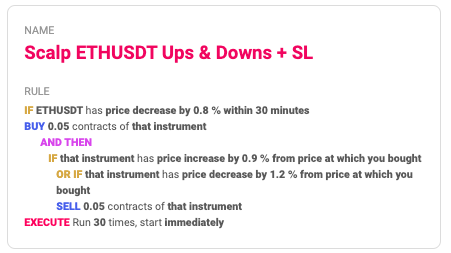 First Condition, The Buy-Signal
The first step is to buy on short term dips.
BUY when the price decreases by 0.8 % within 30 minutes.
Second Condition, The Sell-Signal
In times of uncertainty it's important to set automatically a take profit but at the same time a stop-loss to protect from the downside risk.
Sell

if the price increases by 0.9 % from the price at which you bought
OR
Sell the price decrease by 1.2 % from the price at which you bought
How It Works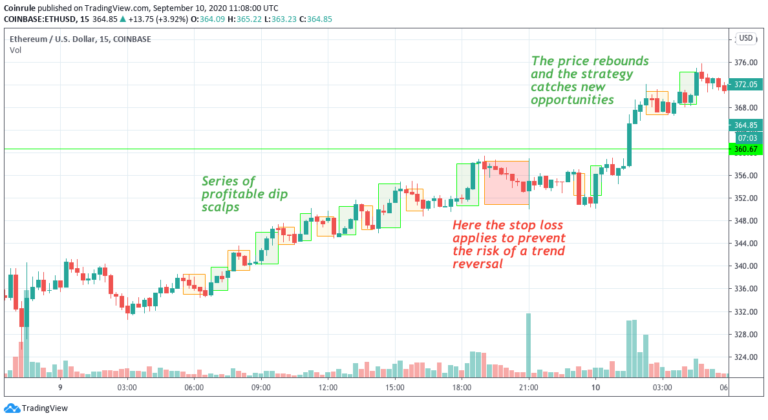 Even during the most parabolic uptrends, the price encounters occasional sell-offs that the trader can use to load more to his position. But when market conditions are uncertain, jumping in and out quickly from the trades helps mitigate the risk. Scalping Ethereum dips is particularly profitable in times of early uptrends. The use of a stop loss allows closing the position to avoid trend reversals.
If major indications that a downtrend is forming, it would be advisable to pause the strategy waiting for more clear market conditions.
Scalping Ethereum Dips With Coinrule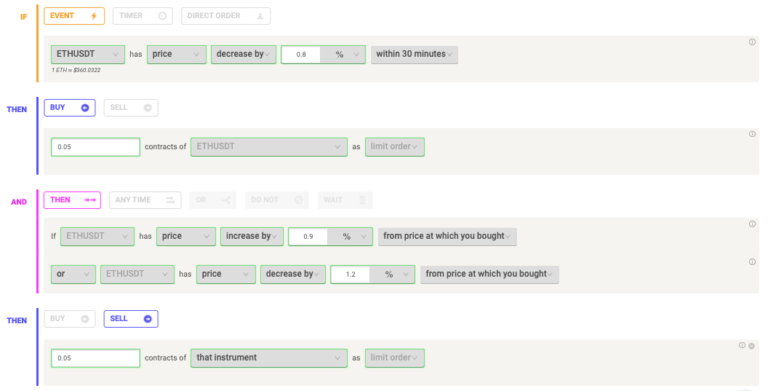 The presented strategy was one of those included in the $1000 Bitcoin challenge with Crypto Rich. Follow the new episodes here.
Do you want to learn more about how Coinrule works? Have a read here.
Create your own rule with technical indicators now!
Trade safely
All information contained in this post should be independently verified and confirmed. I can't be found accountable for any loss or damage whatsoever caused in reliance upon such information. Please be aware of the risks involved with trading cryptocurrencies.

Created: September 10, 2020
Didn't find any solution?
Get in touch with us via the Live Chat or Contact Us Page!