Scalping Cardano on Trend - Ep 12
Market Analysis
The price of Bitcoin has been trading below the $11,000 resistance level. We see that it had a spike in price to reach $10,800, followed by a consolidation period that can lead once again to another retest of the above resistance level.
Other Altcoins, such as Cardano, are experiencing short-term momentum. ADA has been trading in a nice upward trend in recent days. One option could be to run a strategy for scalping Cardano on trend while the price is above the MA 50. To capture this, we will create a rule that will open a position once the price is above the MA 50 and sell when the price increases by 2% or decreases by 4%. By using small amounts of $20 we are managing risk and having a stop-loss in place.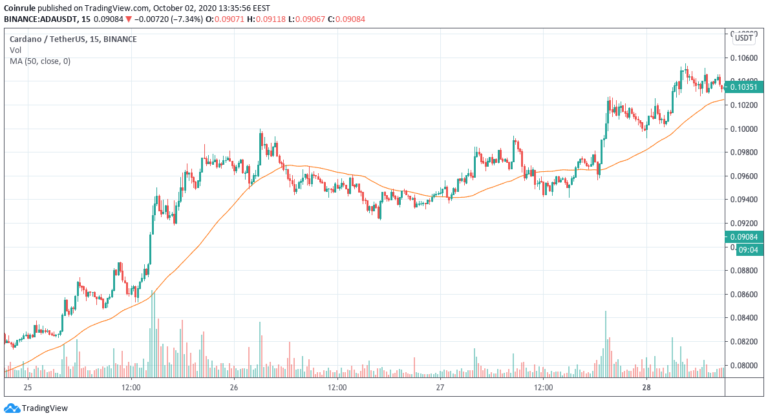 How to build a suitable strategy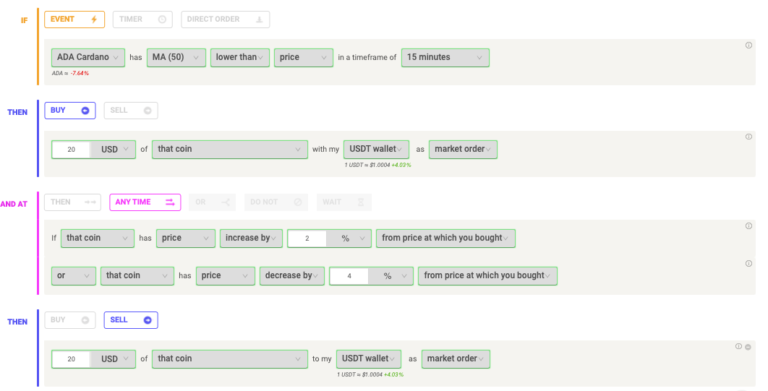 Ultimately the success of the rules is mostly dependent on the market and market conditions. In recent times there has been high market volatility. This can have an impact on rules both positively and negatively. On the upside, more volatility can allow the rule to capture more profits. However, if a stop loss with a small percentage is in place, this can force the rule to end several red trades before we capture any profits. By tweaking the parameters and increasing the stop-loss slightly, the rule will no longer close the trade as soon as a spike in volatility occurs, allowing us to capture more profits.
Another interesting change in the parameter is the number of positions open. Previously we had created a rule which allows only one open position at a time using the "then" operator. Changing this to "at any time" will enable the bot to open several trades at the same time scalping Cardano on trend. It's very important to set the number of executions limited by constraining the frequency of executions to no more once each per hour.
Didn't find any solution?
Get in touch with us via the Live Chat or Contact Us Page!