Scalp Binance Coin - Ep 9
Market Analysis
Bitcoin still trades between the range of $11,100 and $10,250. The price tested the resistance, but the chart shows that the price was not ready to break out yet, bouncing off yet remaining around the $11,000 area. The main missing factor in the breakout is the volume.
The current volume is not significant compared to the values we had while hovering over the support level of $10,250. As the weekend approaches, if no major news rocks the market, it is safe to anticipate that we will continue in this sideways trend for a couple of days. If the price should fall again, the closest support is 6% down at $10,250. The tradeoff would be to trade on the short side as opposed to trading on the long side.
From the chart, we see that there was an excellent rebound after the wedge we plotted, which represents an excellent opportunity for scalping. After the rebound, we see another drop in price. The price printed a double bottom at $26. Among the large-cap coins, the price movements of BNB seem to be the most interesting. The coin represents a good long-term buy opportunity.
The company launched the Binance Chain, among other projects, trying to ride the Defi wave. That could ignite quite a hype in the coming weeks. Currently, we are running a rule with the objective of scalping Binance coin and Ethereum to capitalize on the moves that are happening. As we said before, once the price is bouncing of supports, this represents a good time for scalping.
How to build a suitable strategy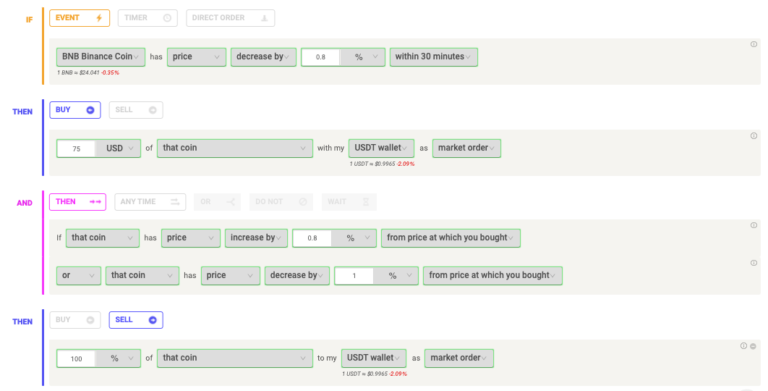 This is an automatic strategy that you can run whenever you notice a positive momentum in liquid coins like Binance Coin. The rule is set to scalp Binance Coin dips to avoid getting a long exposure to the asset to decrease the risk.
Created: September 25, 2020
Didn't find any solution?
Get in touch with us via the Live Chat or Contact Us Page!