Risk Management Saves Your Capital - Ep 7
Market Analysis
Yesterday the market took a severe dip. Bitcoin's price stopped around the area that we had previously identified as a key support level. From here, we can see that the price eventually rebounded, trying to fill the gap created by the dip. Until a clear regain of this area, price action remains uncertain.
However, the dip in the liquidity area around $10200 attracted a larger volume than the last drop, which is encouraging.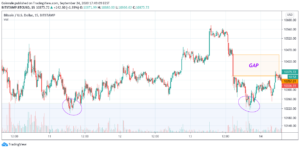 How to build a suitable strategy
Our portfolio incurred a loss during this market drop, but because we practiced sound risk management, the loss was mitigated and did not pose a threat to the portfolio.
The best way to reduce the risk of your strategies is to enter trades with small sums of capital. Trading larger sizes can lead to significant losses. If you trade conservatively, you can make small profits that will eventually add up to a hefty sum. After gaining more confidence with the strategy, you can always add more capital gradually.

Eventually, you will come across rules that will produce losses. Market conditions are always evolving, and even the same rule with identical setups can return mixed results at different times.
All you need to do is never risk too much on one rule, to prevent compromising the capital to run other rules that could pare the losses over time. Risk management saves your capital!
Created: September 24, 2020
Didn't find any solution?
Get in touch with us via the Live Chat or Contact Us Page!