Optimized RSI Trading Strategy
Buy low and sell high is every trader's mantra. While this approach looks straightforward in theory, it's sometimes challenging to put into practice. Moreover, it requires stress-management to buy when price drops occur and resolution in selling when the price is rising. RSI is a useful tool to implement long-term and can help make trading strategies more effective . The rule below is an optimized RSI trading strategy that uses a Moving average to spot the best time to buy the dip.

Buy Condition

Based on the setup, the rule buys when the RSI is lower than 35, and at the same time, the price is below the MA100. In this way, the approach helps avoid catching early dips, increasing buying when the bottom approaches.
Bear in mind, the idea of this strategy is to buy when the bottom approaches or at the bottom, adding the MA100 condition ensures entry near the bottom.
Sell Condition
The rule then sells when the RSI value is above 65. Depending on the volatility of the coins that the strategy will trade, it's possible to adjust the RSI exit value to chase larger profits.
How it Works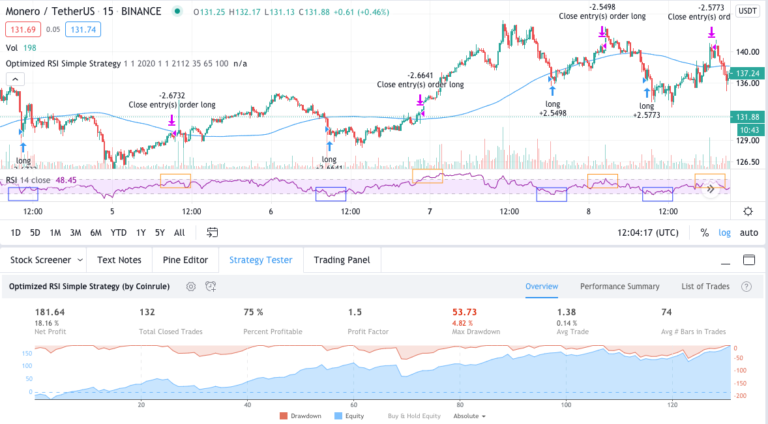 The setup is optimized on a 15-minutes time frame and trading cryptocurrencies versus USD or stable coins. The strategies were backtested over 150 times with multiple setups and coins to assess the best long-term system.
The strategy assumes each order to trade 30% of the available capital. A trading fee of 0.1% is taken into account. The fee is aligned to the base fee applied on Binance, which is the largest cryptocurrency exchange.
How to Build the Strategy with Coinrule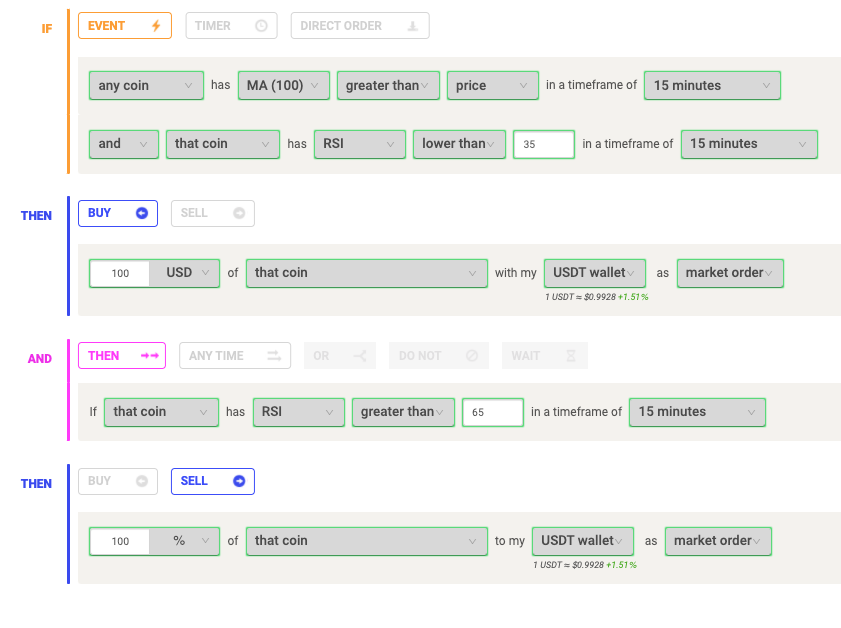 Catching the dip and entering at the bottom can be very challenging and difficult. Setting up an automated strategy similar to the one above can help ensure entry at more favorable prices.
Created: December 10, 2020
Didn't find any solution?
Get in touch with us via the Live Chat or Contact Us Page!