Multi Time Frame Buy The Dips
Buying the dips is a simple yet effective automated trading system that can deliver remarkable returns, especially with uptrend conditions. Not all price dips are good buy-opportunities, though. This trading strategy is based on a multi time frame buy-the-dip approach to optimize each trade. The strategy measures the drop on two different time perspectives to optimize the entry.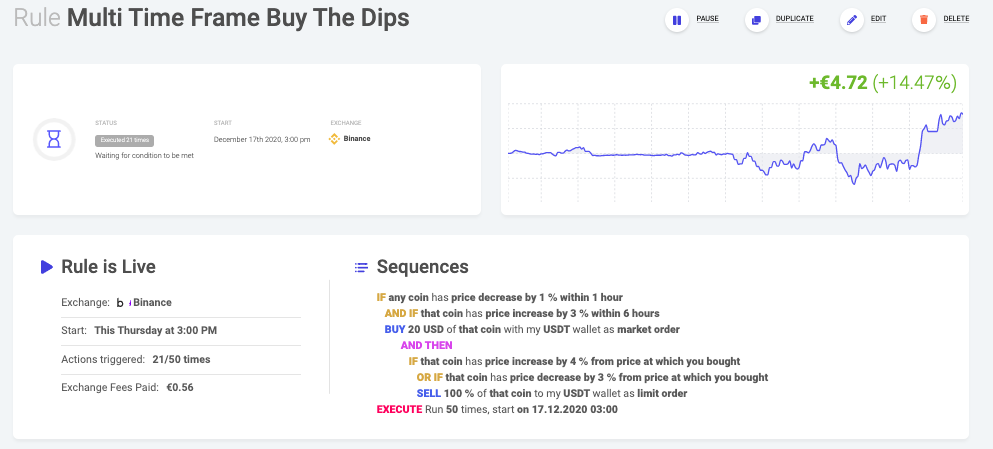 Buy Condition
The setup of the strategy is optimized on two specific time frames. The first being the 6-hours, and the second being the 1-hour. You can adjust the parameters to fit different time frames, according to your preferences.
The system gets a buy signal when
– the price drops 1% within one hour
– the price is up 3% within the previous six hours.
We published on Tradingview a trading script that you can use to backtest this strategy optimizing it according to your needs.
Sell Condition
The trade is closed if
– the price decreases 3% from the entry price, as a stop loss.
– the price increases 4% from the original buy price, as a take profit.
Hundreds of backtests show that on average the rule closes in profit 40-50% of trades. Having a take profit larger than the stop loss increases the chances to have a long term profitable strategy.
How it Works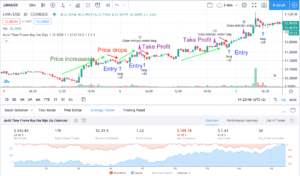 This approach based on multi time frame setup allows to buy the dips only when the coin is in an uptrend, increasing the possibilities of closing the trade in profit. You can run the strategy on single coins or on all available coins on the market.
How to Build the Strategy with Coinrule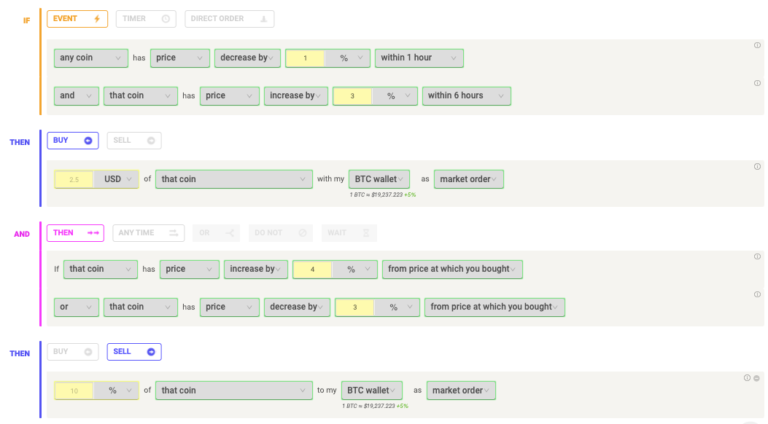 The base setup of the rule makes possible only one trade at a time, as the "THEN" operator is selected by default. A more aggressive setup would be to choose the "ANY TIME" operator to allow multiple trades in parallel.
This strategy is included in our Template Library, and available for free for all users.

Created: November 10, 2020
Didn't find any solution?
Get in touch with us via the Live Chat or Contact Us Page!