Leveraged Bitcoin Sideways Trading - Ep 15
Market Analysis
Looking at Bitcoin's price chart, we saw a significative breakout on the 10th of October that breached the $11,000 resistance level, topping at $11,400. A reversal and retest followed with the price finding support around $11,210. We then see another retest, allowing us to anticipate that this support level will be of great importance. Zooming out and looking at the graph on the weekly timeframe, we can see a rising trending unfolding.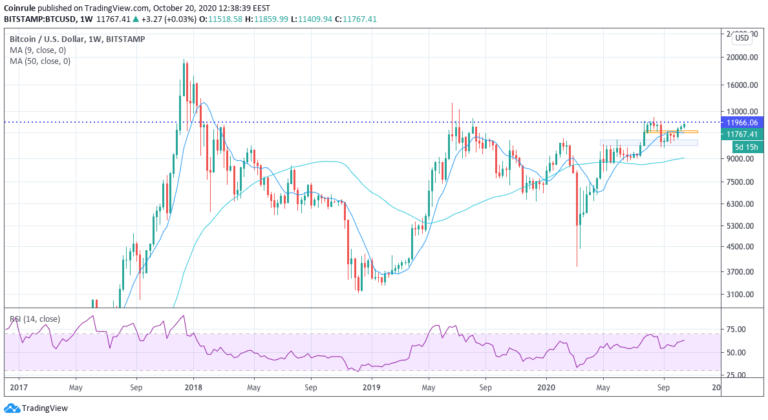 Media coverage focused mostly on positive news in recent days about institutional investors entering the Bitcoin market as a sign of bullishness. On the 1 week chart, we can identify the levels of $12,000 as being key resistance that we need to break in the upcoming weeks. Overall, Bitcoin's sentiment has been Bullish, and we anticipate that if there's no major news that rocks the market, Bitcoin will continue to trend upwards.
After every breakout, there is a time of consolidation that leads to lateral price moves. Leveraged bitcoin sideways trading may be useful to capture these price moves, we have set up a ranging strategy using Coinrule to capture the price movements up or down.
How to build a suitable strategy
There is a slight twist for this strategy. Instead of trading directly BTC, we will be using Binance's new tokens BTCUP/BTCDOWN. These tokens' return multiplies the price changes that Bitcoin experiences.
We created a rule that triggers once the RSI reaches 35 for either token, which usually signals a reversal. Leaving room for us to capture profits during every price swing, both upward and downward. Instead of using the classic 30/70 setup for the RSI, we choose a more conservative 35/65 to allow more executions. This simple approach allows you to create easily a leveraged bitcoin sideways trading strategy on Binance.
The rules launched over the past weeks fitted perfectly market conditions, and in just eight days, we generated a return of 20%, covering the losses we had previously incurred.
Created: October 20, 2020
Didn't find any solution?
Get in touch with us via the Live Chat or Contact Us Page!