Golden Cross Trading - MA100 Optimized
This strategy seeks to reduce the number of "false-signals" generated by a conventional golden cross trading strategy. The trade starts when the crossing happens below a long-term moving average. That could indicate a strong reversal at the end of a downtrend.
First Condition, The Buy-Signal
The rule buys the coin that meets the following condition.
The MA(9) crossing above the MA(50) is one of the most common trend-following indicators.

The MA(100) above the MA(50)

. This usually comes in times of late downtrend and could point at a reversal.
Trading only liquid coins may increase the profitability of this strategy, so you can consider adding a further condition for a minimum market cap of the coins that the rule will buy.
Second Condition, The Sell-Signal
The bot closes the trade when the MA(9) crosses below the MA(50).  In some cases, the strategy could close the trade earlier not catching further upside.
Another option to set up the sell order is to trigger when the MA(50) crosses below the MA(100). In this way, there are more chances of riding the trend longer. This option comes at a cost, though. When the position starts, the MA(50) has not crossed above the MA(100) yet. That means that if the trend that started is not strong enough to push the MA(50) above the MA(100), the position could remain stuck in a loss for a long time. Manage this option carefully, in case!
How It Works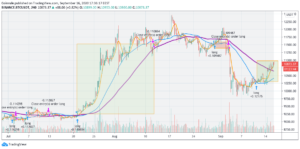 Applying a filter to the golden cross trading strategy, consisting of the crossing happening below a longer-term moving average, allows increasing the chances of catching the first crossing signaling a reversal. Generally, you can expect to have more trades closed with smaller losses and a few trades that will return much larger returns.
This trading system works significantly better on lower time frames, where it can reduce the noise of getting too many non-profitable signals from a conventional golden cross trading strategy.
How To Build This Strategy With Coinrule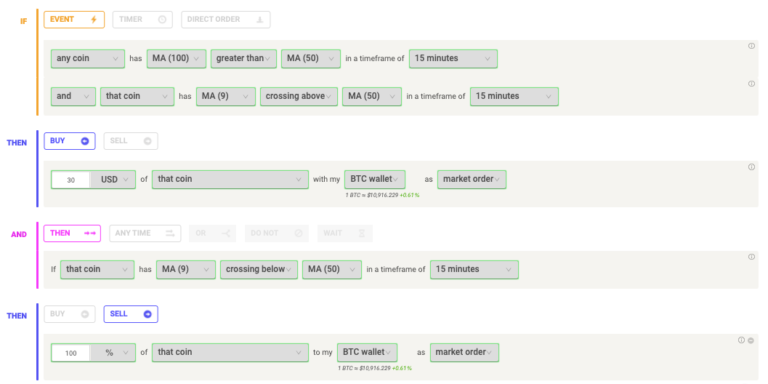 Looking for a similar strategy? You may find this interesting!
Do you want to learn more about how Coinrule works? Have a read here.
Create your own rule with technical indicators now!
Trade safely
All information contained in this post should be independently verified and confirmed. I can't be found accountable for any loss or damage whatsoever caused in reliance upon such information. Please be aware of the risks involved with trading cryptocurrencies.

Created: September 17, 2020
Didn't find any solution?
Get in touch with us via the Live Chat or Contact Us Page!