Defensive Hedge On Bitcoin Drawdowns
Just like buying-the-dip is the most profitable strategy in times of uptrend, selling every rebound is a defensive defensive hedge on Bitcoin drawdowns. That allows to add return to the wallet instead of getting stuck with losses.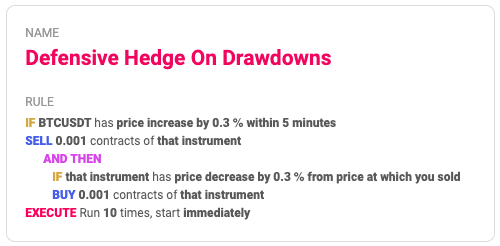 First Condition, The Sell-Signal
Derivatives trading allows you to take short positions without holding the underlining coins. The rule starts with selling a certain amount of contracts when there is a price rebound.
Sell when price increases in a short time frame
Second Condition, The Buy-Signal
The bot buys back the same amount of contracts when the price reaches the set target. It's important to set the same amount of contract so that no long positions are allowed. Being long in times with higher downside risk could lead to severe losses.
Buy

when the price reaches the price target
How It Works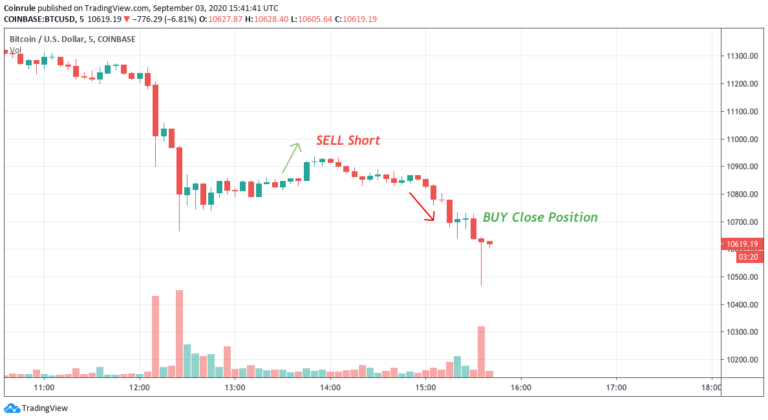 Even during the steepest times sell-offs, the price has occasional rebounds, which offer good opportunities for short-selling and profiting from further downside risk. This approach aims to add returns in times of downside risk, reducing the portfolio's overall risk and losses. The strategy can be applied not only as a defensive hedge on bitcoin drawdowns but works well on all large-cap coins that trade on liquid markets.
How To Build This Strategy With Coinrule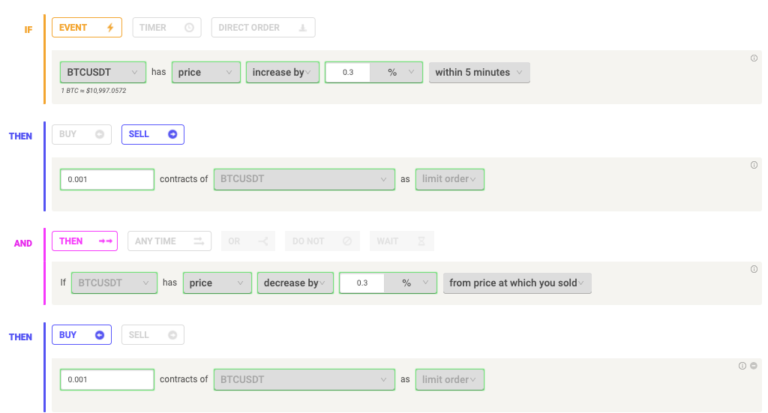 Do you want to learn more about how Coinrule works? Have a read here.
Create your own rule with technical indicators now!
Trade safely
All information contained in this post should be independently verified and confirmed. I can't be found accountable for any loss or damage whatsoever caused in reliance upon such information. Please be aware of the risks involved with trading cryptocurrencies.

Created: September 3, 2020
Didn't find any solution?
Get in touch with us via the Live Chat or Contact Us Page!