Buy The Dips On Monero - Ep 4
Market Analysis
Yesterday we witnessed Bitcoin trading on the support level for the whole day. This is likely attributed to the theory that whenever Bitcoin has a strong price move either up or down, this is typically followed by a sideways move. Analysis has shown Ethereum is the coin that usually leads the other Altcoins both from the upside or downside.
What we were observing yesterday was an ascending triangle on ETH, which is coming out perfectly. Another coin with a similar setup is Monero. We keep seeing higher lows, so this is very encouraging.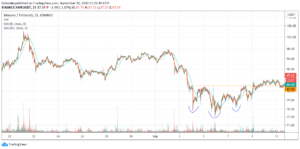 This usually is a sign of reversal that I've seen many times, especially recently. It's not said that once this breaks out, you will immediately see a decisive upward move. This is because, since this is a very recognizable pattern, many traders will look at this setup, trying to anticipate the move on the upside as we saw now that there is an early attempt to break up.
On the other hand, others are waiting for an opportunity to unload their positions. They know that the market tends to move on the upside, so for these traders, this is the perfect occasion to reduce their exposure if they believe that the downtrend will continue. Usually, this creates a shy move, so we could probably see some lateral move and a possible strong trend retracement before the actual strong move as a reversal.
The daily strategy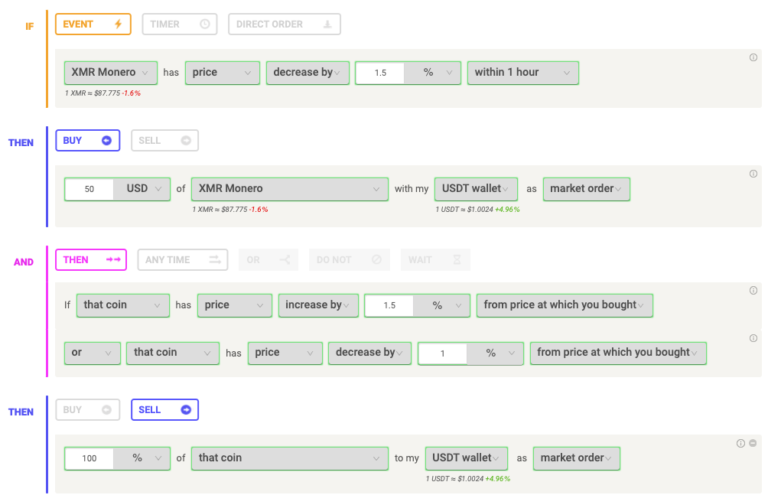 This is an automatic strategy that you can run whenever you notice a positive development on liquid coins. The rule is set to buy the dips on Monero and protects each trade with a take profit and stop loss to decrease the risk.
Created: September 22, 2020
Didn't find any solution?
Get in touch with us via the Live Chat or Contact Us Page!