Bitcoin Swing Trading On Binance Leveraged Tokens
The market offers great opportunities every day. As a trader, the biggest challenge is to catch those opportunities spotting the price's right direction. Usually, some rules work better when the market is trending up. Others fit better as protection in times of drawdown. A strategy for Bitcoin swing trading on Binance leveraged tokens allows building a trading system that could perform well in all market conditions.

Buy Condition
The trading system runs on two leveraged tokens that track Bitcoin's price multiplied by up to 3x. The BTCUP token's price increases when Bitcoin's price increase. While BTCDOWN token's price increases when Bitcoin drops. Read more about leveraged tokens on Binance here.
Trading both tokens within a single trading strategy increases the possibility of catching the market's right direction.
The RSI lower than 35 represents the buy signal for whichever of the two token the condition is met first.
Sell Condition
The bot closes the trade when the value of RSI of the token bought reaches 65. Setting the sell signal to 65 may prevent catching further upside potentials, but it increases the possibilities to close the trade quicker.
These tokens are not meant for long term investment. A short-term swing trading strategy is perfect for leveraged tokens.
How it Works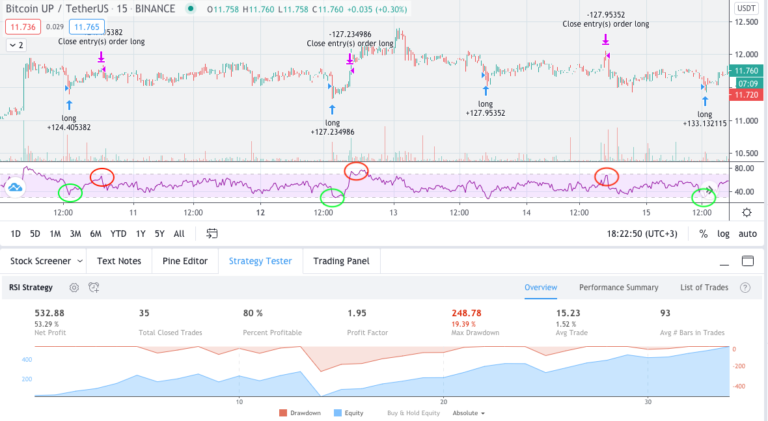 This approach works in all market conditions, giving the opportunity to catch every price swing. Even in times of low volatility, the RSI can assume overbought and oversold values because their volatility is relatively higher. These tokens multiply up to x3 Bitcoin's price changes.
How to Build the Strategy with Coinrule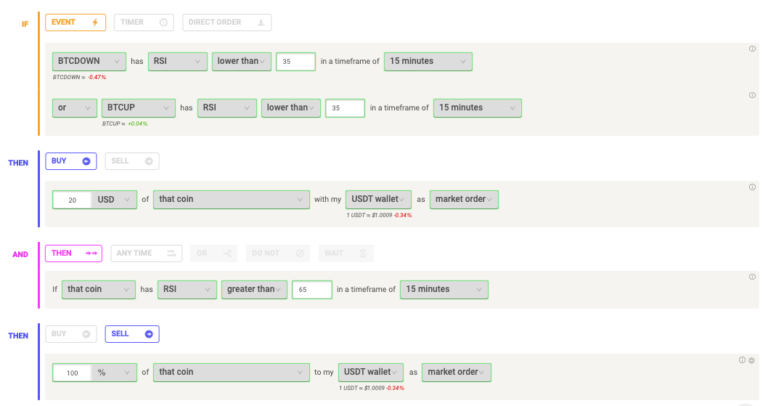 The structure and logic of this rule are relatively straightforward. When one of the tokens is in oversold conditions (RSI lower than 35), the bot buys it. Then the strategy closes the trade when the RSI is above 65.
The most interesting aspect of this strategy is that after closing a trade, the system could potentially open a new one immediately after in the opposite direction, multiplying the opportunities.
Created: October 15, 2020
Didn't find any solution?
Get in touch with us via the Live Chat or Contact Us Page!