Bitcoin in Price Discovery - Ep 24
Market Analysis
Once again, comparing the current chart of bitcoin against the chart of 2017, we can observe that bitcoin is a very unique asset. The pattern that has emerged shows we are retracing the same price movement as that of 2017, the main breakout that occurred this year was on December 16, 2020, when Bitcoin broke the resistance level of $19,666. Amazingly, December 16th, 2017, was the last time bitcoin printed a green candle before the beginning of the bear market. When comparing the two charts, the main resistance level during 2017 was $16,929. Bitcoin used this level at that time as resistance in a period of consolidation. In the present day, BTC has been using the same level as support to break on the upside.
The previously unbreakable resistance level was broken this time. The developments in Bitcoin price have caused the previous resistance levels of $20,000 to become crucial support for Bitcoin. As there are no more resistance levels, Bitcoin has now entered into price discovery. From a trader's perspective, an entry point near this price is optimal because of the presence of support near the entry point. Because there are no resistances on the upside. Since buyers and sellers no longer have a reference point, there is a great probability that the price skyrockets on the upside discovering new levels.
Looking at the Fibonacci levels, we can see that the previous bull market's main resistance level was $13159. Now that Bitcoin is in price discovery, many traders are looking at the Fibonacci levels to find resistance levels. Based on the Fibonacci levels, we anticipate that the next resistance levels are between $24,257 and $30,000. We anticipate going forward that bitcoin will consolidate for a week or more before moving to the upside. There is also a probability that we retest levels of $17,000 before moving back up in price.
Since we anticipate that Bitcoin's demand is increasing, moving forward, it would be beneficial to set up rules that can capitalize on the price of Bitcoin increasing. One of the simple strategies that will perform well in current market conditions is to accumulate Bitcoin before a new all-time high. Since we anticipate a sharp increase in BTC price over the coming time period, launching this rule should capture part of the profit.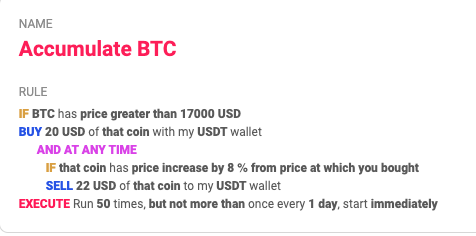 How to build a suitable strategy
To capitalize on this, we plan to accumulate Bitcoin during price discovery. The trading system accumulates Bitcoin every day if the price stays above the support level of $17,000, without selling.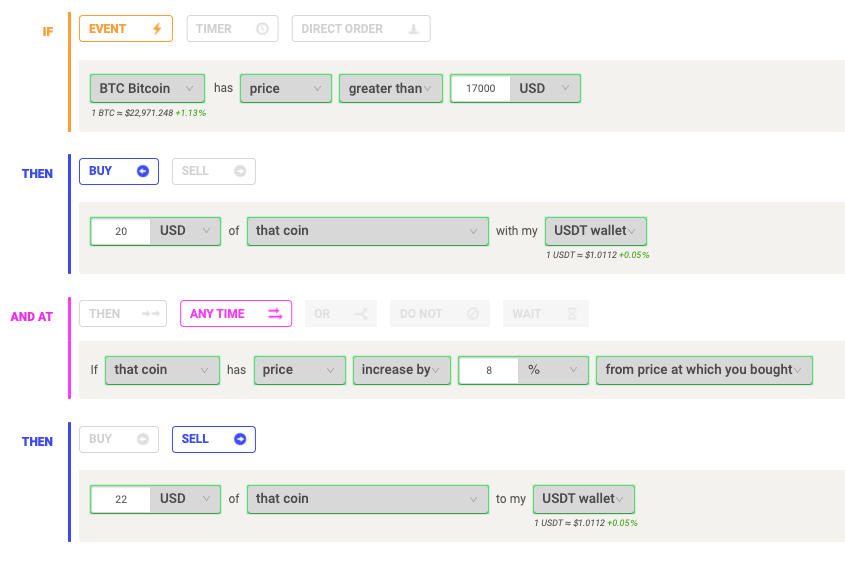 Created: December 22, 2020
Didn't find any solution?
Get in touch with us via the Live Chat or Contact Us Page!