Accumulate Bitcoin Before A New All-Time High - Ep 18
Market Analysis
Analyzing the BTC on the 4h timeframe, we can see the accumulation phases that we had charted previously were stepping stones to fuel the upside's breakout. Our strategy to accumulate Bitcoin before a new all-time high has been performing well so far.
In August, we saw another accumulation phase, followed by a strong breakout. This pattern last week was similar to that of August, in which the price touched the resistance and retested the consolidation rea below. However, this time, after touching the support, we saw a massive push of momentum that propelled bitcoin's price to hit the next resistance level of $16,000.
This shows a solid demand for Bitcoin. Currently, there are only two resistance levels until the price reaches a new all-time high once again. We anticipate that Bitcoin will continue to rise in price in the upcoming weeks; we have put some rules in place to take advantage of this. One of the rules that have been very profitable in recent weeks is a relatively simple rule that is structured to Buy BTC and sell if the price increases by 4%. We have been running this rule for almost one month now, and it has returned a nice profit, given the current market conditions.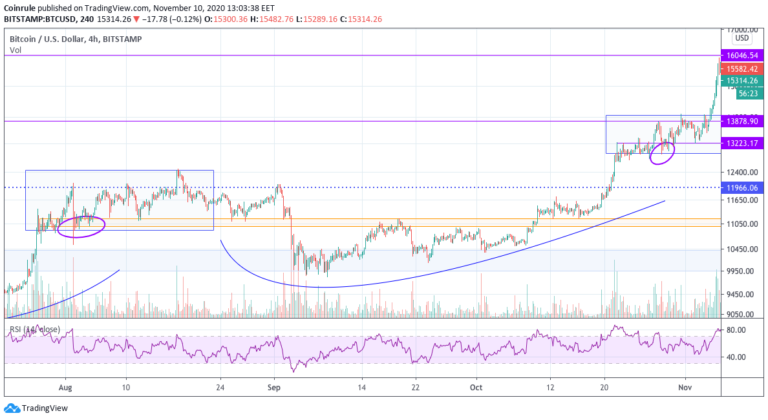 Since we anticipate that Bitcoin's demand is solid, moving forward, it would be beneficial to set up rules that can capitalize on the anticipated increase in the price of Bitcoin. One of the simple strategies that will perform well in current market conditions is to accumulate Bitcoin before a new all-time high. Since we anticipate a sharp increase in BTC price, launching this rule should capture part of the profit.

How to build a suitable strategy
To capitalize on this, we increased slightly to amount to accumulate Bitcoin before a new all-time high. The trading system accumulates Bitcoin every day if the price stays above the support, without selling. The Bitcoin accumulates will be invested in new strategies to buy Altcoins in the coming weeks.

Created: November 10, 2020
Didn't find any solution?
Get in touch with us via the Live Chat or Contact Us Page!